Facebook, founded in 2004, was initially a social networking platform. But the viral spreading has made it one of the most effective earning money online tools in the world. Nowadays, large business companies or small individual retailers can use Facebook In-stream Ads to make profits easily. That is why choosing to buy a Facebook page with likes also is the most common method to shorten the pathway.
Is this purchasing really beneficial for creators who want to have a great start on Facebook? Let's go into details right now.
How to monetize your Facebook page?
We have to understand how users can make money with Facebook. Most people will take advantage of Facebook In-streams Ads. By placing short adverts before, during, or after their video content, In-stream Ads enable video creators and publishers to earn money. Creator Studio is where In-stream Ads are managed. Ads can be placed in certain videos or enabled across the board on a Facebook Page.

Monetization Facebook page for Creators
There are several requirements to be qualified for this feature:
Comply with Facebook's Partner Monetization Policies and pass the test.
Have 10,000 followers.
You must be at least 18 years old and are living in among the acceptable countries.
In the last 60 days, 600,000 total minutes have been viewed. This can contain videos that are on-demand, live, or have previously been live. Minutes viewed from crossposted, boosted, or compensated watch time are not included.
There are at least five current videos on this page. Videos can be on-demand or formerly live, but active crossposted videos are not included.
The countries where in-stream ads are currently available include the United States, Belgium, Denmark, France, Germany, Netherlands, Norway, Portugal, Spain, Sweden, Argentina, Bolivia, Chile, Colombia, The Dominican Republic, Ecuador, El Salvador, Guatemala, Honduras, Mexico, Peru, and Thailand.
How to know about your Facebook monetization eligibility?
When you have met all the above criteria, follow these steps to check your In-stream Ads eligibility on Facebook:
Click Creator Studio.
To check the status of your Page's instream adverts, go to Monetisation on the left-hand side of the menu.
Choose Set up if you're eligible.
Choose a page to work on.
After reading over the terms and conditions, click Agree to Terms.
Create a payment account.
Fill out the form to submit your page for review.
Your Page will be reviewed by Facebook to make sure it complies with our Partner Monetisation Policies and Instream Ad requirements. You will be alerted via email and on Creator Studio when the review process is complete.
Check out: Important Considerations for Buying Instagram Followers
If your Page was rejected, do not worry because you still have the chance to resubmit another application. But be sure to check over all the criteria again.
For more detailed information, you should contact Facebook support without hesitation.
Tips to get monetization with Facebook In-stream Ads
Many people often do not reach Facebook eligibility because of some of the following problems:
They didn't meet Facebook eligibility standards to monetize.
They don't have at least 10,000 followers on the page.
They don't have 600,000 total minutes watched in the last 60 days.
Here are some useful tips for them to fix these issues.
Check over monetization standards
Examine Facebook's Monetization Policies for Partners.
Make sure your videos adhere to Community Guidelines.
Create content that follows the content monetization guidelines.
Create creative videos with your own stuff.
Avoid sharing techniques that are spammy, low-quality, or manipulative.
To gain 10,000 Facebook followers
Attract followers from all over the world
Keep track of returned people
Using Loyalty Insights in Creator Studio, track your returning viewers against the videos you publish each week. If you detect a sudden increase or decrease in returning visitors, figure out what videos are causing it.
Maintain a regular publishing schedule
If you publish video content on a daily or weekly basis, it can encourage viewers to return for new episodes.
Respond to comments and questions.
If you take a few minutes to respond to comments and questions, that can turn casual viewers into loyal fans. Viewer comments are also a way to get ideas for new themes and videos.
Distribute your content to other platforms
Sharing is a great choice to spread your ideas. Publish the link to your videos across all of your social media platforms. Help other social media users find you by sharing the permalink of your content.
Estimate the searching about your page
Consider how visitors might reach your Page via search. In your Page name, choose the name or brand that your followers are most familiar with.
Create and maintain a devoted and active community
Facebook places a premium on material that promotes genuine interactions and that people seek out and revisit. You need to find a specific way to make your content outstanding enough in a community. That is why sharing your content in a strategic way is pretty important. To assist bring fans to your Page, strategically share material, use groups, and make your Page more discoverable.
To have 600,000 total minutes viewed in the last 60 days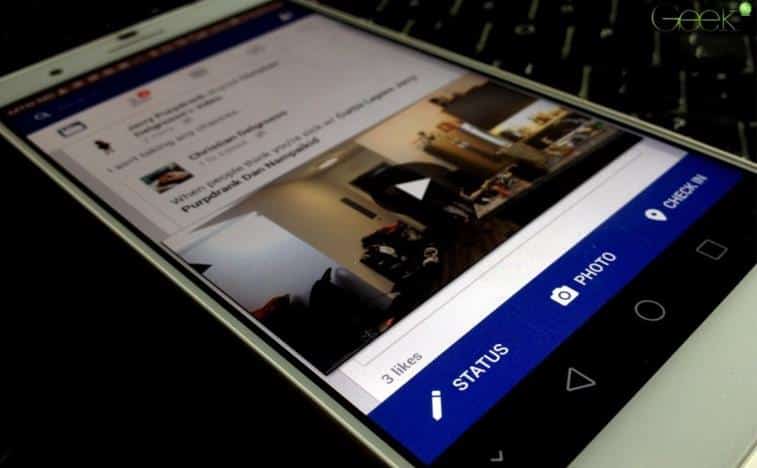 How many minutes in total are your Facebook videos viewed?
Create your material with the intention of including In-stream Ads. At the 1-minute mark, your videos should have a natural ad insertion point.
At the start of the video, rapidly grab the viewer's attention.
Cross-posting videos is not a good idea. Watch time from crossposted videos is not included in the total minutes viewed.
New trend: Buy a Facebook page with likes
Who should purchase this service?
Buying Facebook, like using the advertisements manager, is a simple approach to expand a relevant audience. It's then up to the buyers to give that audience valuable material over time. So who will be suitable for this service? It's the creators who want to make money through In-Stream Ads but do not have enough time to build a page from the beginning.
As digital technology advances rapidly, people have to adapt quickly to this speed. For those who already have products to promote or any viral content to share, building a channel from basic steps, then busy attracting viewers and followers, will be a rather time-consuming and laborious process. Furthermore, anything has its own time, so it is not preferable for a late product release.
Spending a fortune to own a prestigious Facebook page with a huge fan base is completely worth it
What are the benefits when you buy a Facebook page with likes?
Let's buy a Facebook page with likes!
Brand development
When you buy a Facebook page with an impressive number of likes, you can promote your products and brand to people who already love your page. Besides, social media followers are attracted to accounts with lots of activity and likes. So your followers' friends are also more likely to know your page.
Boost sales
When the page you buy has good interaction and effective operation, your brand, products, and services will also become familiar to customers, there is no reason why your sales will not increase. Moreover, customers tend to trust you more, leading to the need for purchasing.
Better customer support
Traditional customer care might be more difficult if you want to show your sincere attention and encourage customers to buy in the future. But with the Facebook page, you will get enough information to actively contact customers. Your business has a competitive edge over your competitors.
Listen and observe to improve the business
In the age of technology like today, Facebook has a lot of visitors, customers, and potential customers who have the ability to inform or share information with friends about the products and services they want as well. needs that they need but have not yet met. Once your fans interact with your page, it's a great opportunity for you to get richer, more accurate, and useful information to grow your business.
Where should you buy a Facebook page with likes?
Buying a high-quality Facebook page will bring high efficiency to your business. So you have to carefully consider which site to buy from.
One of the reputable places for this service is AudienceGain.net. With many years of experience in supporting content creators, this site provides Facebook page likes and followers and In-Stream Ads Eligibility page.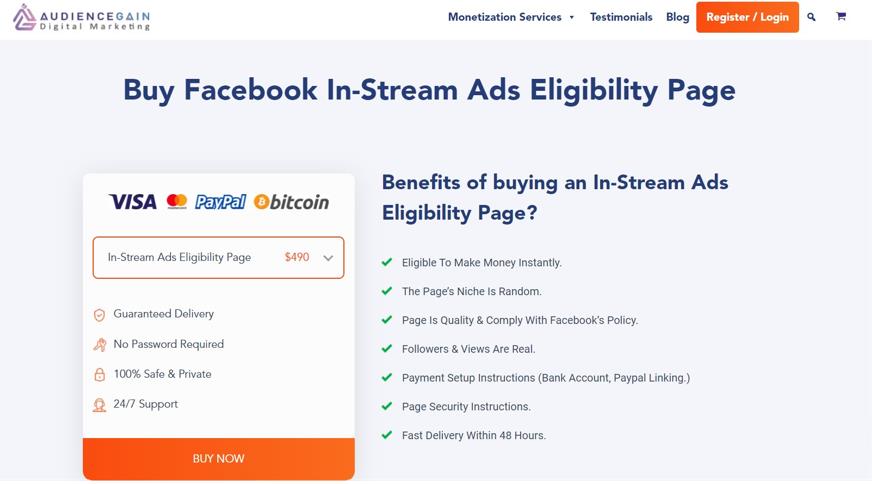 AudienceGain's service
What both these services have in common is to always make sure the pages they sell are enabled for monetization. So customers can rest assured when they receive a Facebook account from them. Besides, make sure you checkout AudienceGain Reviews to clearly understand them before buying.
Final Words

To buy a Facebook page with likes allows you to save time, which is especially beneficial when you're just starting out. All the time you spent setting up your account and gaining followers can now be used to expand your business.
With just a few simple steps and useful advice received from the provider, you already have a Facebook channel with a large number of followers. A pretty affordable method for busy creators.
Check out: Ways To Get Instagram Followers Using InsFollowers App