To combat piracy, actions have been taken to safeguard the audio and video on DVD discs, commonly referred to as DVD Copy Protection. However, these measures can also impact enjoying DVD content on smartphones, tablets, laptops, and other mobile devices from an individual perspective. If you are also troubled by the inability to freely copy audio and video from DVDs to other devices, you may as well try to learn rip protected DVDs, which is an effective way to overcome viewing restrictions enforced by DVD Copy Protection. And the following parts will show you 3 workable methods to rip protected DVDs. Without further ado, let's dive in!
What is DVD Copy Protection?
DVD copy protection is a technical measure designed to prevent unauthorized copy and distribution of DVD content. There are numerous kinds of DVD copy protection currently employed to discourage users from DVDs dissemination for individual or commercial purposes, which can be broadly categorized into the following 8 types.
Region Code: The DVD region code divides the world into different regions, with each region assigned a specific code. These codes restrict DVD players to play only DVDs meant for that specific region.
Content Scramble System (CSS): CSS is a digital rights management technology. It can restrict the copying and distribution of DVDs by encrypting video data.
User Operation Prohibition (UOP): The aim of UOP is to limit user control during DVD playback by preventing specific operations, including fast-forwarding, skipping, bypassing copyright notices,and more.
Sony ARccOS Protection: Sony ARccOS Protection is developed by Sony. This technology adds numerous erroneous sectors to the DVD, making it difficult for many DVD copying software to replicate accurately.
Analog Protection System (APS): APS introduces protective signals into the analog signal, which can prevent the copying or decryption of DVD audiovisual content.
FairPlay: FairPlay fall under digital rights management introduced by Apple Inc. It is used to limit the playback of purchased content on unauthorized devices.
CPRM/CPPM: CPRM and CPPM are sort of DRM technology. They usually embed encryption information and impose access controls on the media to prevent unauthorized DVD copying and distribution.
Despite these various protection measures, for personal viewing purposes, the following three rippers can help you easily remove the protection restrictions on DVDs.
Method 1. Use VideoByte BD-DVD Ripper (Professional Tool)
VideoByte BD-DVD Ripper, compatible with Windows and Mac, is dedicated to help you remove DVD copy protections. Be it Region Code, CSS, UOP, or others, this top-notch program can detect and rip DVDs to over 300 audio/video formats as you wish. Better yet, with parameter customization, you can not only copy protected DVD content with original quality but also keep all subtitles and audio tracks. This enables you to enjoy the audio and video on your phone, computer, television, or even PS4/PS5, tailored to your specific audiovisual preferences.
Sparkling features of VideoByte you can explore:
Rip protected DVD to MP4, MKV, MP3, AAC, and other 300 formats;
Support to rip Blu-ray and DVD at 1:1 ratio in lossless quality output;
Preserve all subtitles and audio tracks when removing DVD protections;
Provide 6X faster speed to rip DVD content without wasting time;
Offer various parameter settings to meet your device and taste requirements;
Embed an inbuilt editor to edit DVD audio/video for fun in a direct way.
Not only these powerful and marvelous features, but VideoByte BD-DVD Ripper can also remove DVD copy protection in only 3 steps. Now check the tutorial below and have a try.
Step 1. Open VideoByte and import DVD content to it
Install and launch VideoByte on your computer. Then go to "Load DVD" > "Load DVD Disc" to import DVD media.
Step 2. Choose DVD content and set the output format
Once the DVD content is imported, click "Full Movie List" and choose audio or video you want to rip. To change the output format, you can head to "Rip all to" in the top right corner.
Step 3. One click to remove DVD copy protections
Tap on "Rip All" to extract audio or video from DVDs. If you want to browse or change the destination folder, you can go to the "Save to" button before DVD copy protection removal.
Method 2. Use VLC (Free yet Troublesome)
As free and open-source media software, VLC supports a wide range of codecs and formats, making it one of the top media players and the best free DVD ripper. By combining VLC with the third-party libdvdcss library, you can handle many DVD protections.
However, it's important to note that libdvdcss may not be suitable for newer protection technologies. If you fail to use VLC to remove DVD copy protection or have wasted a lot of time ripping DVD, consider seeking assistance from VideoByte BD-DVD Ripper.
Step 1. Install libdvdcss for VLC on Windows and Mac
Make sure you have VLC installed on your computer first. Then you need to install libdvdcss according to your computer version and system.
For 64-bit and 32-bit Windows versions, you can download libdvdcss-dll from GitHub;
For Mac Yosemite or older version, you can download libdvdcss package here.
Ensure you copy the file "libdvdcss-2.dll" to the "plugins" directory within the VLC installation directory on Windows. Alternatively, copy the file "libdvdcss.2.dylib" to the "/usr/local/lib" directory on Mac.
Step 2. Inset and Load the DVD
Launch VLC, head to "Media tab" > "Convert/Save" and click the "Disc" tab to open the inserted DVD. Then select "Convert/Save".
Step 3. Select output format and start to rip DVD
Select MP4 or other formats in "Profile" as the output format. Then, press the "Start" button to remove DVD copy protections for you.
Method 3. Use MakeMKV (MKV Output Only)
MakeMKV is classic software for ripping DVDs. It can convert protected DVD videos to the MKV format in just 10-15 minutes. And in the conversion process, it retains all video and audio tracks and preserves chapters information. Because MakeMKV can only convert DVD content to MKV, you can not use it to save pure music or song files to your local device. If you wish to rip both the video and audio from DVDs, you can resort to using VideoByte BD-DVD Ripper as an alternative.
Step 1. Launch MakeMKV and load DVD
Install and open MakeMKV on your computer first, then insert the protected DVD. Click the drive button on its interface to let MakeMKV read your DVD.
Step 2. Select video you want to copy
View the content arranged in a tree structure. You can select the titles and tracks you want to save from the disc, or using the right mouse button for multiple selections.
Step 3. Start to convert DVD videos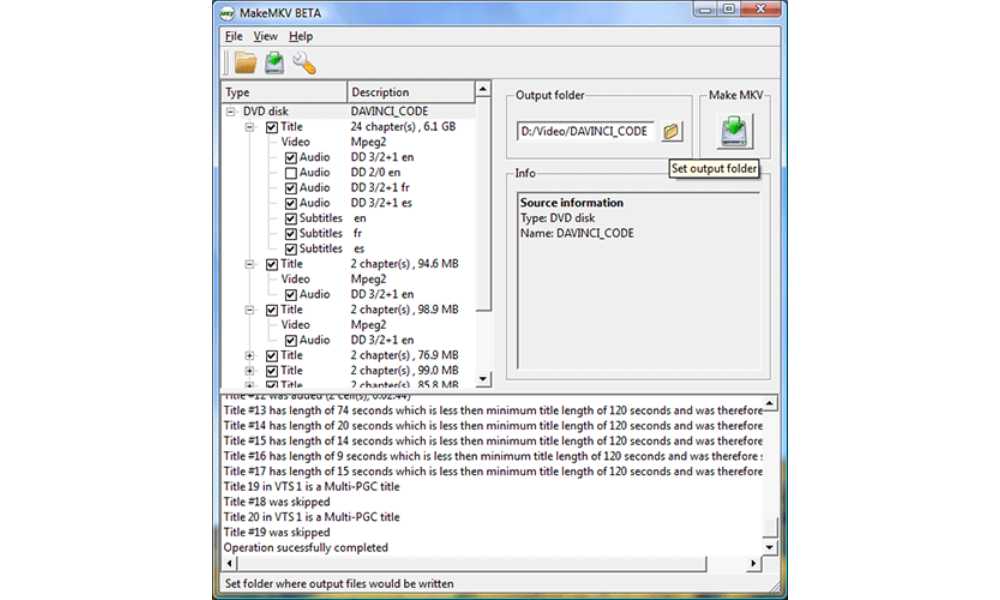 Press the "Make MKV" button to start removing DVD copy protections and converting videos to MKV. You can view the progress, elapsed time, and time remaining from the conversion interface.
Final Verdict
That is the 3 workable ways to remove DVD copy protection. VLC is free to use but comes with complex operation. MakeMKV swiftly removes DVD copy protection but is limited to converting DVD videos only. In contrast, VideoByte BD-DVD Ripper, with its simple operation, offers various output formats and employs built-in settings to meet diverse audiovisual needs and help with video and audio editions. This program can be the final solution for DVD copy protection removal. So why not download it and rip your DVDs right now!