A family tracking app enables you to ensure that your loved ones are always safe. Family means a lot to most people. A special kind of love that some people only experience in their family setups binds them. Therefore, it's unsurprising that some people can go the extra mile for their family's safety. Family tracking apps enable users to trace their loved ones, ensuring their peace of mind.
How Do Family Tracking Apps Work?
A cell phone tracker app helps the user locate the target person in real-time. Whether your loved one uses an iPhone or an Android device, the app lets you know their whereabouts anytime.
Most family tracking apps use GPS to track the location of your family members, meaning you can see where they are at any given time, as long as they have their phone with them. Also, some apps for family tracking offer additional features, such as the ability to see where your family has been, set up geofences, and receive notifications if someone leaves or enters a designated area.
Best Family Tracking Apps
While many apps for tracking family members are available, some are better than others. Also, these apps have varying features, functionalities, and prices. You may also find free family tracking apps online. However, free apps are not always safe, and experts recommend premium services. Here are the best tracking apps for family.
GEOfinder – Family Tracking App for iPhone and Android
GEOfinder uses a cell phone number to locate a loved one. This app presents an innovative approach to location tracking. Once you sign up and pay for the service, you can trace the target person in a few seconds upon entering their phone number. The app works by sending the target a text message that resembles a system-generated note.
Since it's a web-based service, you don't have to download and install any app. And the app runs in stealth mode, meaning you can trace your teen without them knowing. Also, you don't require physical access to install any app on the target device. GEOfinder works with all smartphones.
Life360 Tracking App for Family
Life360 is among the most popular family tracking apps available. It has a simple interface and offers features like GPS location tracking, geofencing, a panic button, and more. This app helps family members stay connected with its location-sharing functionality. Also, you can create groups and add people to monitor their location. It also lets you see the group members' location history.
Additionally, you can log on to its website to track a lost device's location. The app offers more safety features than other location trackers. For instance, it can send a notification to specific emergency contacts or call for an ambulance in case of an accident.
SpyStealth – Best Family Tracker for Android
SpyStealth is a location tracker for smartphones without permission. It allows you to track the target device's location using GPS technology. Upon installing and setting up the app on your family member's device, you can use it to monitor their whereabouts and history of past places. For iOS, the app's setup requires the iCloud password and username of the device's owner. This app can track an Android's location without rooting it.
Many people prefer this location tracking app due to its accurate and fast performance since it updates the target device's location details every second. Additionally, you can use this app to track up to five devices.
Check out: What is the Container Shipping Tracker?
Find My Friends Tracking App for Family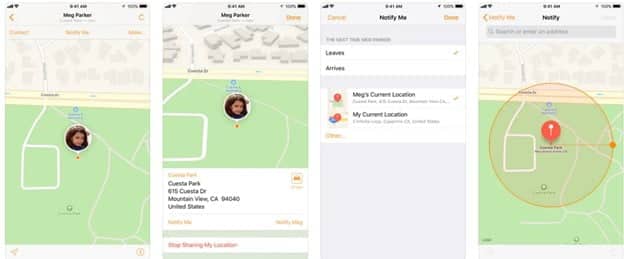 Find My Friends is an excellent family tracking app for iPad, iPhone, and iPod users. It has a straightforward interface. It's the default tracking app on iOS devices and Apple Watches. It allows users to add their preferred contact and share their location. Also, it sends requests via Apple IDs. Although the app doesn't support macOS, users can access it on the iCloud web. To start using this app:
Open the Find My Friends application.
Tap "Add."
Select the people with whom to share your location.
You can also enter the Apple ID to send a message requesting the contact to enable location sharing so that you can track them. Also, the app offers unique features, such as notifying you about the target person's movement.
Google Family Link
Google Family Link is also among the best tracking apps for family. It enables you to monitor your kid's device by integrating with its Google account. Thus, using this app allows you to supervise your kid's smartphone. This app stands out because the target person doesn't have to share their specific location. Instead, the app will update the target's position in the background. Thus, Google Family Link enables you to track your child anytime.
Apart from location-sharing, the app allows you to set time limits and lock them. You receive a message seeking your approval whenever the target person attempts to download an application. And they can only download and use any app after your consent.
Find My iPhone Tracking App for Family
Find My iPhone is among the best family tracking apps for iPhone devices. It's an efficient location tracker that allows users to locate lost devices. After tracing the device, you can reset it to protect personal information. However, you can't find the device after erasing it. This app lets parents control their children's devices as an in-build iPhone tracking feature. However, you must activate the Find My iPhone functionality in the iCloud storage to use it. Ideally, you toggle the activation icon with a single tap to turn this app on. Once you complete the sign-up, the screen displays a map showing the family member's location.
Verizon Smart Family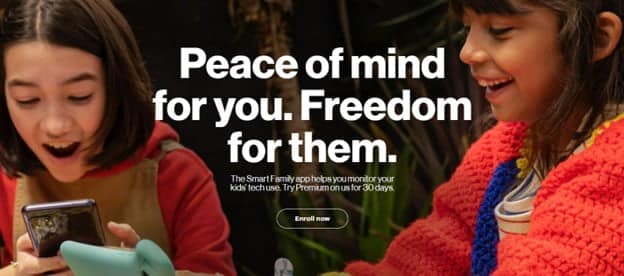 Verizon Smart Family is a location tracking and parental control app. This family tracking app is ideal for parents that want to monitor how their kids spend time online and on their devices. After the setup, the app provides the target smartphone's information, including the content the kid engages in and their location.
However, the app sends a text message or a push notification telling them that somebody is monitoring their app and web activity. Verizon Smart Family enables you to keep tabs on family members and receive alerts upon arrival at their destination. It's available in two packages, Smart Family and Smart Family Premium, costing $4.99 per month and $9.99 per month, respectively.
Sprint Family Locator
Sprint Family Locator is a location tracker that allows users to trace up to four devices simultaneously. Its primary benefit is that you don't have to install it on the device you want to track. Also, this free app works upon sending a request via a text message to the target person. This location tracker helps you trace the location history while notifying you about the target phone's whereabouts at any time. Some of the information the tracker sends you includes the location address and a pinned location on a map. Thus, you can quickly perform regular checks on the target person to ensure their safety.
Conclusion
460,000 children are reported missing every year in US. Additionally, 2/3 of runaway children are between 15 and 17 years old. Such statistics make many parents use tracking apps for family to ensure their kids' safety. If you're a parent worried about their children's safety, pick one of these iPhone and Android apps for tracking family members and ensure their safety.