Augmented Reality (AR) has become absolutely customary for users since it appeared on Instagram and Facebook as masks and filters. When it comes to eCommerce, this technology isn't new too: Converse was amongst the first brands that introduced it in 2012. However, up until recently, the pace of AR proliferation into online stores wasn't so impressive. But currently, more and more companies add the try-on option to their websites and mobile apps.
Such functionality brings about plentiful advantages for both customers and businesses if implemented right. Being complex and energy-consuming, AR-based solutions require stores with excellent performance. So, you should take some steps to improve your shop prior to setting up a try-on feature. For instance, for online stores on Magento, the best measure will be to upgrade Magento 1 to Magento 2 and transform the website into a progressive web application.
On this page, we'll explore five remarkable examples of try-on features used in the beauty, accessories, and footwear sectors.
Benefits of Virtual Try-On
There are several favourable effects that try-on ensure to users and business owners:
the technology considerably enhances the shopping experience, easing the process of opting for and purchasing online;
it engages customers and provokes the feeling of gratitude for better customer service that aids in building closer connections between people and brands;
it contributes to higher conversions since prospects can be more confident that the chosen items fit them;
it gives a competitive advantage on the market;
as online orders are getting more precise, the number of returns drops;
sometimes it facilitates up-sales and cross-sales, giving the opportunity to try on various products simultaneously (f.e., eyeshadow, lipstick, and eyeliner to find out whether they match or not).
Check out: Apple's AR strategies are becoming closer to a reality
Now let's move on to the examples of virtual try-on instances that I consider the best in online retail.
1. Makeup Brands
Cosmetic brands are in the avant-garde in terms of implementing AR in online retail. Almost all prominent names have already added virtual try-on: MAC, Maybelline, Laura Mercier, NYX, bareMinerals, Bobbi Brown, Urban Decay, NARS, YSL, Sephora, Lancôme, Charlotte Tilbury, and even Chanel.
The functionality of these assistants may vary on different websites and apps. Basically, you can upload your photo or use a camera on the device. Some try-Ons suggest seeing the "before" and "after" effects by moving the frame on the video. Sometimes you can save the shot and send it via email.
Amongst products that you can try on are lipsticks, eyeshadows and liners, mascaras, foundations, and so forth.
Advanced options allow you to try several products at the same time. Take a look at the screenshots below from Chanel's website (I asked one of my colleagues to assist and try all this stuff instead of me). Although some lags occur from time to time, you can see how you look with particular shades of lipstick, eyeshadow, and eyeliner. You can also mark all liked items and return them later or add them to the cart straight away.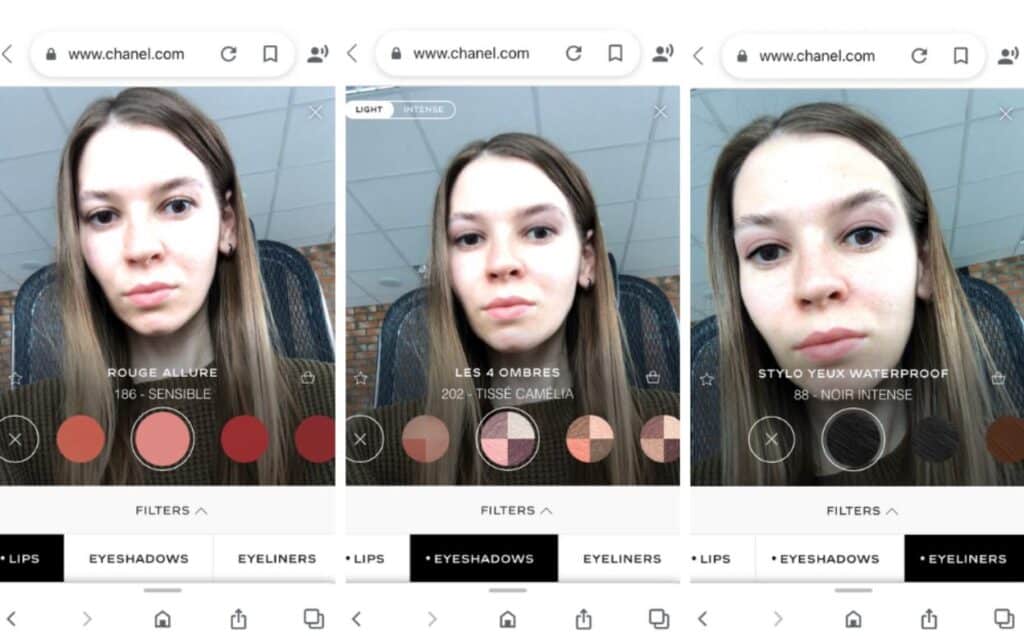 2. Footwear
Major retail platforms like FARFETCH and individual brands such as Nike, Adidas, Puma, and Gucci have AR-based features to encourage customers to buy some new sneakers. Let's see how Adidas organized its try-on in the mobile app. In the screenshots below, you'll see a special mark indicating models available to fitting. Unfortunately, very few items have corresponding marks. Anyway, let's give it a try with a couple of popular pieces.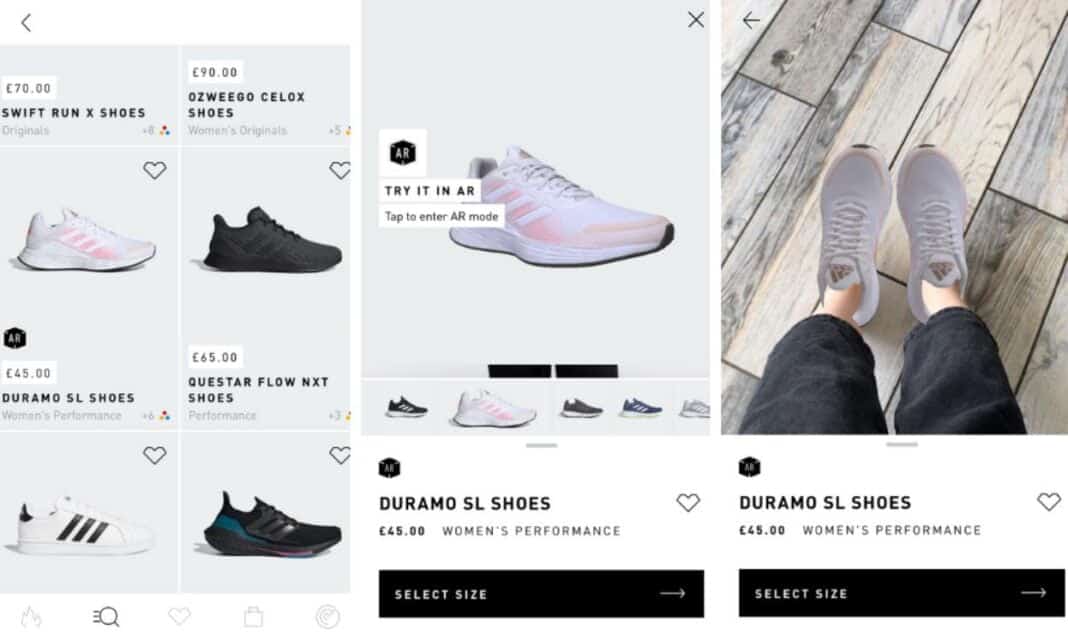 The AR option is hidden among photos. After you allow access to the camera, you can see how these sneakers look on your feet. To be honest, your peeping socks can distract you a bit from enjoying the view. Some items are displayed more correctly than others. Nevertheless, you still can get the idea of whether this pair is your match or not.
3. Glasses
We all know how tough it is to buy new glasses when you aren't acquainted with the shape and not sure if it fits your face. A number of eyewear brands (Zenni, Quay, JINS, and so on) have recently introduced a pretty accurate try-on function. Let's talk about how it works on the example of Zenni (in the screenshot below).
Firstly, you should slowly move your head to the left and the right. Secondly, the virtual assistant offers you to hold any plastic card against your forehead for more precise measurements. After that, you see how various frames fit on your face. The handiest thing is that the program creates gifs for every frame in the catalogue straight away.
4. Timepieces
Possibly, the most vivid example of AR-powered watch fitting is the one in Gucci's app. It also allows you to try on fashionable sneakers, shades, hats, makeup, nail polish, and home décor. Although the app noticeably warms the phone and gluttonously consumes its battery, trying on Gucci's pieces is a truly fascinating process.
Let's explore the screenshots below. After the model has been chosen, it appears on your wrist in a fairly natural view. Even glares are seen when you turn your hand. Finally, you can either go to the shop and order the item or save the photo.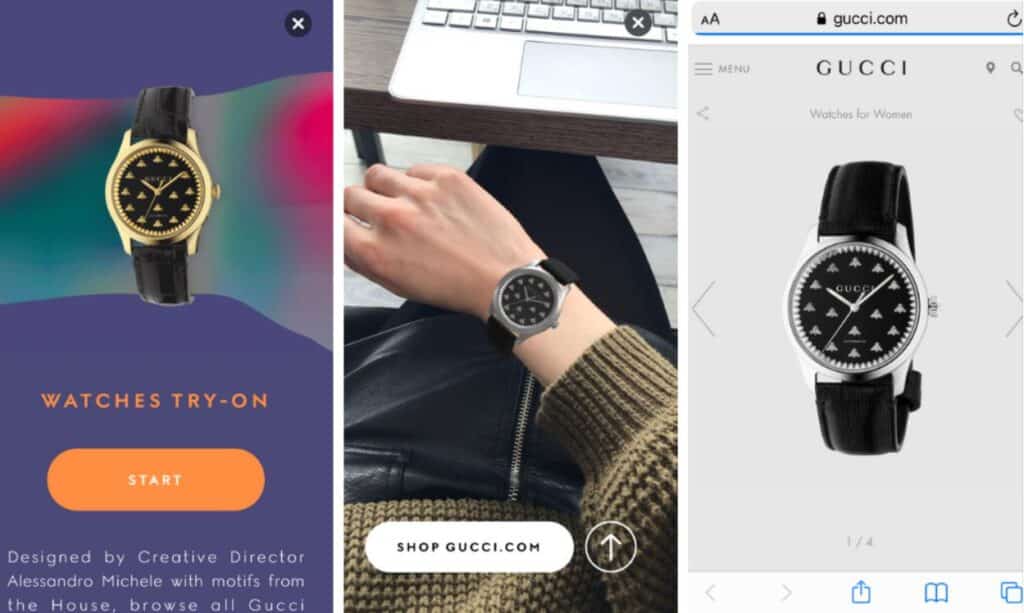 5. Hair
Before drastically changing your hair colour, play with a virtual try-on that can be found on the websites of the following renowned brands: L'Oréal, Garnier, Wells, and Redken. My assistant was so carried away by the process that she even ended up thinking to paint her hair pink! Thus, it really works and convinces people to buy.
Look at the screenshot below to see the rich set of options that the virtual try-on by L'Oréal provides. You can see the "before"/"after" look or take a photo and share it via Facebook or Twitter to shock your followers. Moreover, you can send it by email. And, certainly, order the particular product. By the way, L'Oréal invites you to try on plenty of makeup products as well.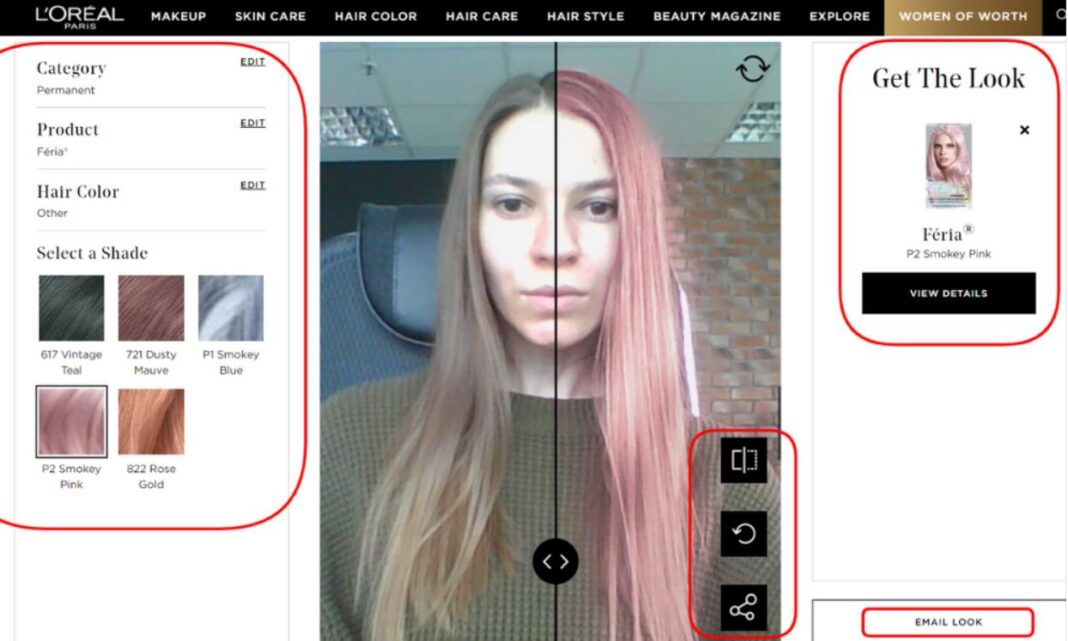 Wrapping Up
As AR is becoming more and more demanded and refined, eCommerce can't ignore this technology anymore. Plain content marketing strategies aren't enough, tempting photos and videos aren't enough, targeting and other digital marketing tools aren't enough. If you don't want your customers to fall short of expectations and turn to other manufacturers, take the matter of AR-powered try-on into close consideration.
Check out: Augmented Reality vs. Virtual Reality: What's the Difference?