Healthcare is one of the sectors which is constantly developing thanks to new technological advancements. Despite the heavy load on the Healthcare Sector due to the pandemic, the continuous rise in diseases, and the population explosion, professionals are coping with the challenges in an effective manner.
Artificial intelligence and Machine Learning have revolutionized the healthcare and medical sector. These technologies are helping medical professionals in analyzing vast amounts of medical data and make predictions, diagnoses, and treatment recommendations with a high degree of accuracy.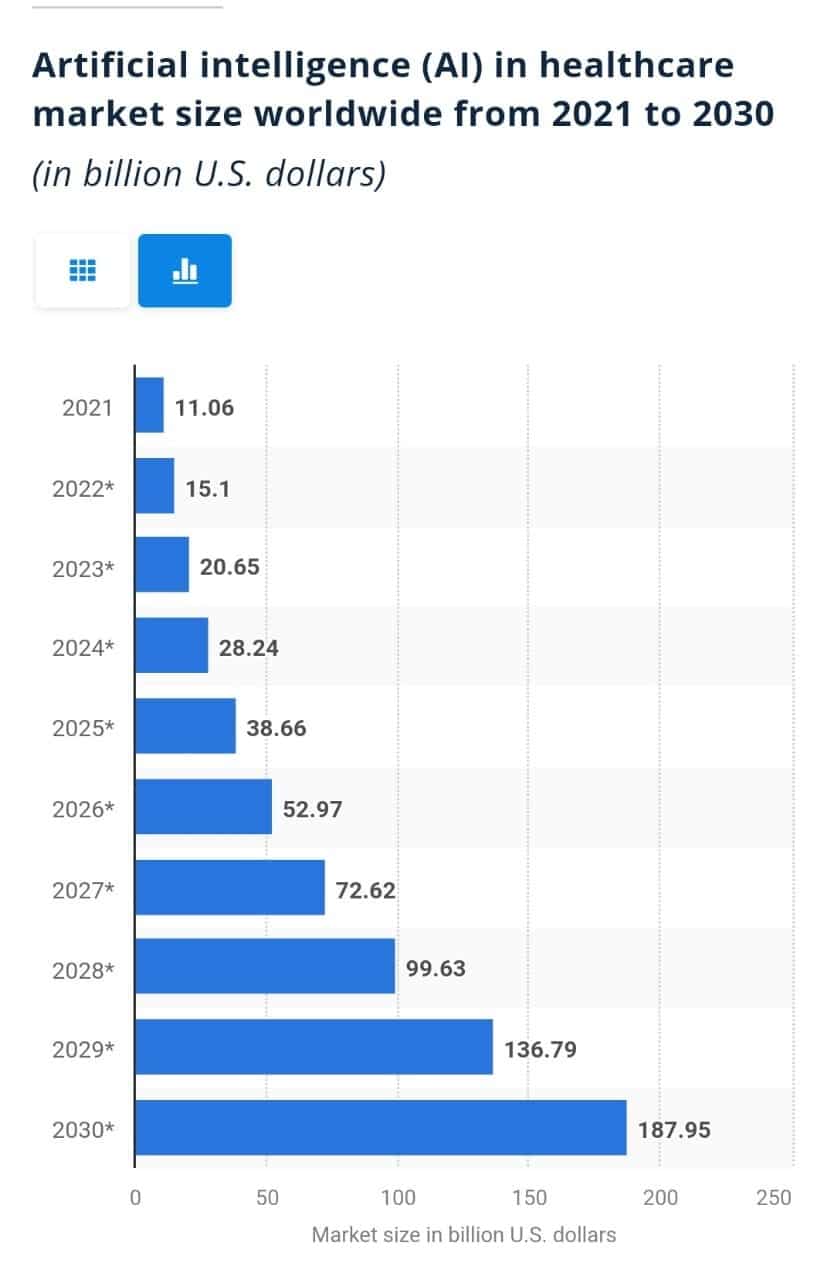 Experts believe that in the coming years, medicare will be one of the most affected sectors. The future of healthcare lies in AI and ML. In this article, we will try to discover some potential future applications of AI and ML in healthcare and the medical sector.
Medical Imaging for Better Diagnosis
One of the most encouraging applications of ML in healthcare is in the field of medical imaging. AI algorithms and Machine learning can be used to design diagnostic tools that can be trained to identify and diagnose medical conditions by analyzing medical images such as CT scans, X-rays, and MRIs.
This can help medical professionals in easy, accurate, and quicker diagnoses of several diseases like heart-related complications, gastric issues, cancer, and brain disorders. In the same way, these AI algorithms can also help in the early diagnosis of diseases by analyzing medical images. This can help doctors to provide timely treatment and reduces the risk of disease.
Drug Discovery & Development
In the modern era, the change in our lifestyles has given rise to several diseases. New life-threatening diseases are growing at a rapid pace. For example, COVID-19 variants have increased rapidly since the onset of the virus in 2019. With this super-paced growth of diseases, drug discovery and development has become significantly crucial.
AI and ML can play an important role in the field of drug-finding growth and development. The process of discovering and developing drugs is a complex one and relies on several factors and loads of historical data. AI algorithms can be extremely useful in analyzing vast amounts of data on the molecular structure of drugs.
Machine learning (ML) can speed up and improve this process by providing data-driven tools with well-researched and high-quality data. This can help medical researchers to identify new drugs and develop more effective and personalized treatments for patients. AI can also be used to anticipate the side effects of drugs, which can help to improve patient safety.
Check out: Comparison Between RPA and Test Automation
Improving Clinical Trials
In simple words, Clinical trials mean research that tests how reasonably new medical systems work in people. For example, clinical trials were done on several people during the development of COVID-19 vaccines.
AI and ML can also be used to improve the efficiency and efficacy of clinical trials. We all know that AI algorithms can be used to analyze large amounts of data. This property of AI can be used to analyze data from clinical trials. This data can be used to identify patterns and trends that can help researchers to make better decisions about how to plan and conduct the trials.
In simple words, machine learning can be used to develop better algorithms for managing clinical trial records, which can reduce time and cost. At the same time, it helps in developing new treatments and drugs effectively and speedily.
Automating the work of Clinicians and Medical Staff
In the future, AI and ML can also be used to improve the efficiency and performance of healthcare services. AI can easily automate several redundant tasks performed by the medical staff, like measuring patients' blood pressure and other parameters. This will supplement health professionals' perform better at their jobs and improve the overall efficiency of the medical system at reduced costs.
AI and Machine Learning enabled healthcare units are the future. These will be called truly smart and intelligent health systems.
Check out: What Role Does AI Play In Healthcare Software?
Personalized and Improved Care
AI (Artificial Intelligence)and ML (Machine Learning) can be used to improve the overall medical experience by providing patients with more personalized and suitable care. For instance, AI-powered virtual assistants can be used to access patients' health 24/7 and trigger actions based on the inputs. AI-powered systems can provide patients with more precise and timely diagnoses and treatment guidance.
These systems can speedily analyze patient data to identify patients at high risk of developing certain ailments and to provide personalized care and treatment. This improves the efficiency of healthcare systems.
For example, the government of Singapore is making use of machine learning and AI to manage the health of people who are pre-diabetic. The government has scooped the data of approximately five million citizens to identify people who are pre-diabetic. These people receive personalized daily advice about what they do to improve their health and lower their blood sugar. This highly personalized advice based on data has been very successful at restricting participants' progression from pre-diabetic to diabetic.
Surgical Robots
Surgical robots are the future. Initially approved in the USA in 2000, these robots comprehend surgeons, improving their ability to see and create precise and minimally interfering cuts on injuries. Some of the common surgical systems using surgical robots include gynecologic surgery, prostate surgery and head and neck surgery.
Administrative use
The use of AI in the administrative section of healthcare is generally ignored. However, if we look at the reports, the average US nurse spends 25% of their work time on regulatory and administrative activities. This time can be utilized in a more effective way while AI takes care of the regulatory and administrative activities. Robotic process automation (RPA) can be used for a variety of administrative tasks like clinical documentation, claims processing, and medical records management.
Conclusion
In conclusion, AI and ML have the potential to revolutionize the medical and Healthcare Sector by improving the accuracy of diagnoses, the efficiency of clinical trials, and the delivery of healthcare services. These technologies can help to improve patient outcomes, reduce costs, and provide patients with more personalized and convenient care. However, as with any new technology, it is important to ensure that ethical principles guide the development and use of AI and ML in healthcare and that the privacy and security of patient data are protected.
Written and curated by: Parveen K Tomar, Adobe AEM Architect, USA. You can follow him on LinkedIn.