Entrepreneurs are continually attempting to enhance their marketing efforts. Email marketing services remains an effective marketing technique, with a $42 return on every $1 spent. It is essential to select software that can drive your email marketing to a new level.
Email marketing services (software) is much more than a method for sending and tracking emails. Increasing your audience, segmenting your lists, and integrating all of your marketing channels transform the software into a potent tool for expanding your business and generating more cash.
We evaluated the most popular email marketing service on the market, considering pricing, usability, and functionality, among other factors, to provide you with the best solutions based on your needs.
The 7 best Free Email Marketing Services
1. ActiveCampaign
ActiveCampaign is the most used email marketing service in our survey for 2022, which is not surprising given that it has around 130,000 customers.
ActiveCampaign has gained its name as a top marketing automation tool by concentrating on developing a world-class platform that offers various solutions for B2B, B2C, and e-commerce enterprises from around the world.
It is by far the most sophisticated email marketing service on our list, with machine learning and predictive technologies that enable marketers to work smarter and generate a more significant ROI.
ActiveCampaign is notably straightforward and easier to use than some of the other tools on our list and is often acknowledged as the innovator of visual marketing automation.
ActiveCampaign also has excellent delivery rates (>99%), interfaces with over 870 third-party products, and goes above and beyond in terms of security and compliance.
ActiveCampaign is an all-in-one marketing platform that includes a CRM system to handle your sales, live chat, and email campaigns.
You may believe that all these amenities come with a heavy price tag. ActiveCampaign is reasonably priced and more reasonable than many of the other tools on this list, starting at only $9 per month.
And ActiveCampaign has just published their Customer Experience Commitment, which outlines 22 commitments from their support team, such as free implementation and migration.
Check out: 7 Tips To Design High Conversion Email Signup Forms
2. HubSpot
HubSpot has everything you require in a single location. The email marketing services are comprehensive and offer a great deal for free, including up to 2,000 emails each month, more than 100 lists, and reporting. When you're ready to scale, you can add HubSpot solutions for CRM, complete marketing management, customer care, and sales, among others.
The email tool launches the editor as soon as registration is complete, allowing you to start immediately. The next destination for individuals who are new to HubSpot or email marketing, in general, is the user guide, which details all you need to know to create beautiful, effective campaigns in HubSpot.
Included in your 200 lists are 120 static and other "active" lists, which provide speedy possibilities to segment, for example, hard-bouncers or those who open but do not click.
In addition, HubSpot interacts with Zapier, so you can automatically build and update HubSpot contacts from new form submissions and copy new leads from your advertisements into HubSpot.
Is HubSpot cost-effective?
In our study of more than 1,700 email marketers, HubSpot was the second most probable answer (behind MailChimp) to the question, "Which email marketing software are you leaving?" Almost always, the reason is the price.
By offering free versions of its products, HubSpot portrays itself as an affordable choice for small enterprises. However, do not be deceived by the low entry barrier. As your need for more sophisticated services increases or your email list expands, the platform becomes increasingly expensive.
One business owner I worked with began with a $50/month plan but wanted a $2,000/month plan that was paid annually within a year. The only alteration was the addition of an additional 15,000 contacts and marketing automation, but their bank account balance increased from $50 to $24,000.
I am frequently conflicted with HubSpot. ActiveCampaign, Benchmark, and other comparable solutions provide the same capability at one-tenth the price. However, HubSpot is a good contender if knowing what influenced each sale is a problem worth spending a five-figure fee to solve.
This is why we recommend HubSpot for B2B service organizations, where the benefit of acquiring a handful of additional clients each year would easily pay the cost. This also applies to larger, more sophisticated agencies that are required to offer clients with comprehensive information on their marketing funnel.
HubSpot may be overkill if you're solely interested in email marketing services. HubSpot is a fantastic alternative if you want to increase performance across your entire marketing funnel, but don't expect it to be inexpensive.
3. MailerLite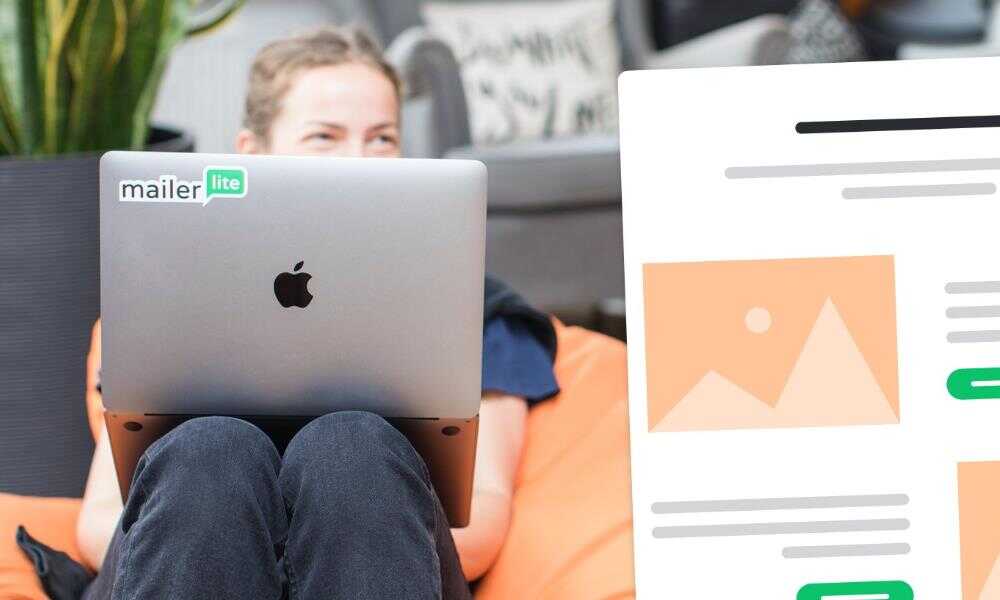 MailerLite is the most straightforward email marketing service to use because of its drag-and-drop interface, which makes creating the desired design enjoyable and intuitive. Simplicity is key to the company's aim, which is why the program has a simple and uncluttered appearance.
MailerLite has created the most user-friendly platform, making it the finest option in terms of usability. Email support is available to answer queries and assist with troubleshooting if users encounter any issues.
It provides a free-for-life plan with 1,000 subscribers and 12,000 email sends. If you require more bandwidth or desire more advanced capabilities (such as the ability to remove MailerLite branding), you can upgrade to a premium subscription. Cost is dependent on the number of subscribers. You have the option to pay monthly or annually, but the annual plan offers a 30% reduction. Additionally, nonprofits receive a 30% discount.
MailerLite contains all the necessities for email marketing without clogging its system with unnecessary features. This makes it ideal for organizations seeking a clear email marketing strategy that can be mastered in days, not months.
4. Campaigner
Campaigner is the ideal tool for an experienced team that has outgrown beginner-friendly email marketing services.
This tool's sophistication keeps it out of the beginning category, but it is by no means so advanced as to require a developer.
You will have the ability to personalize your email segmentation, personalization, and customer journeys. Capture the data you require and make use of it.
Campaigner automates a significant amount of administrative tasks, giving you more time to examine pre-built data on open rates, conversion rates, etc.
Everything you may want from an email marketing provider is included in the platform. If you've run campaigns before, you'll recognize how simple Campaigner makes staying on schedule.
Even among leading services, deliverability is quite high, and there are numerous ways to keep your contact lists and email in good standing.
Send transactional emails with confidence using Campaigner's SMTP relay: track email openings, clicks, and specific link usage. Determine precisely what works and multiply your success.
The A/B testing capabilities allow you to experiment with subject lines, senders, dynamic content, and send times, among other variables.
Campaigner is offered in a variety of bundles, but you can contact them for a customized plan. You can also sign up for a free 30-day trial of Campaigner, which grants you access to the whole site.
The Starter package includes a limited number of capabilities, including autoresponders, segmentation tools, and a drag-and-drop email editor. By upgrading your package, you gain access to more contacts and advanced email marketing options.
Campaigner is suitable for virtually all email marketing use cases out of the box. It provides the tools and visibility necessary to identify successes and fine-tune your efforts over time.
5. Moosend
Moosend is not the most efficient email marketing program we evaluated, but it makes up for this with generous free plan limits and robust eCommerce segmentation capabilities.
The email builder functions, with drag-and-drop support for adding items and a rich text editor. After connecting your eCommerce site, navigate to the Revenue Dashboard tab to obtain an overview of how your email marketing initiatives contribute to sales.
Creating a new segment requires a few extra clicks compared to other apps we tried. But even free users can split lists by essential eCommerce variables such as average order value, subscribers who add a certain product to their shopping cart, and total spending, among others. The free plan of Moosend contains automation tools, including over a dozen automated "recipes" for abandoned carts, promos, and customer loyalty.
Moosend interacts with Zapier, enabling connections with a multitude of other applications and automated workflows, such as adding new Moosend subscribers from fresh leads and validating email addresses for new Moosend subscribers.
6. Campaign Monitor
If aesthetic appeal is essential to your marketing strategy, Campaign Monitor is an email platform you should investigate especially if you need a personalized email strategy to maintain brand consistency.
Campaign Monitor's beautiful themes and drag-and-drop email builder will give you complete control over the appearance of every message. Create a professional-looking email quickly by customizing fonts and color schemes and by adding free stock photographs from Unsplash.
Campaign Monitor offers subscribers a dedicated team of service experts to provide continuous help for account setup, best email marketing practices, and ways to improve your deliverability rates.
In addition, you will receive enhanced contact segmentation, which enables laser-focused targeting and emails that differentiate you from the competition. And with the included link inspection tool, you will never again have to worry about outdated or broken links in your communications — your emails will be automatically scanned for URL issues.
7. Drip
Drip is the best email marketing service for e-commerce enterprises because of its advanced workflows and list segmentation capabilities. This combination enables subscribers to receive tailored emails based on their shopping activity on your website and timely follow-ups based on how they interact with your emails.
Drip is the best email marketing software for e-commerce businesses since it is designed to enhance the online user experience for shoppers. Its user support is provided to assist with installation and usage concerns. We especially enjoy how you may categorize your lists so that your website and email alerts give the most outstanding possible user experience.
Drip offers a 14-day free trial and one plan ranging from $19 to $1,599 a month based on the number of contacts in your account.
What Are Email Marketing Software?
Email marketing software helps users to generate email list like Email Finder tool, send, and monitor emails to their subscriber list. Using software facilitates the creation of well-designed emails and monitoring critical data such as open and click-through rates. Automating emails depending on user behavior increases the likelihood of interaction because the email is more tailored to the user's interests.
Email marketing is an excellent marketing strategy for virtually all industries. For instance, an e-commerce business can automatically send a reminder email if a consumer abandons an item in their shopping basket. A SaaS product can urge users to demo a product and determine the persistence of follow-up based on whether a lead accepts the offer. Email marketing is no longer a novel method, but it has demonstrated its efficacy year after year in industry reports.
Check out: Common Email Phishing Attacks, Techniques & Prevention