Many users have a passion for self-portrait photography. No wonder, because if you shoot it right, you can achieve amazing results. We've gathered the best tips to help you do just that.
And if you want to take a full-length photo, you need to know about the best photo poses for women. You can read about them on Skylum's blog. There are also many other creative ideas that will make your photo shoot unforgettable.
The best ideas for your perfect photoshoot
So, let's get started! We sincerely hope that our advice will be useful to you.
Take self-portraits from different angles
Would you agree that not everyone likes the photos you have on your passports? Of course, they do, that's why there's no need to stand straight in front of the camera and take self-portraits. Take photos from very high or very low angles. Experiment, it's worth it.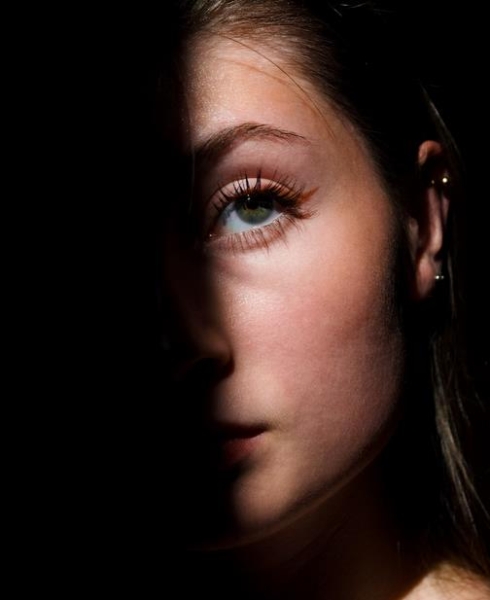 If you don't want to show your face, there is another way. You can take a faceless photo where it won't be visible. You don't have to take a photo of just the back of your head. You can take a silhouette or even a certain part of your face, and it will still be a self-portrait.
Read about women's photoshoot poses to get the perfect result. Remember that you can't show your emotions with facial expressions, so find things that can tell your story without words. If you decide to shoot the back of your head, take care of a camera with a timer or invite an assistant, because you can't do it by yourself.
Use the folder
As strange as it may sound, it is folders that are widely used in art photography. You can use them to give your picture a mysterious haze. Here's how you can do it:
Let the camera focus on your face.
Place the folder in front of the lens. Make sure it doesn't cover it completely, otherwise your portrait will be underexposed.
Snap the picture and enjoy!
Don't be afraid to use accessories
If you want to make a photo unique, use accessories. They will give you a twist without drastically changing your appearance. Here are a few accessories you can use:
sunglasses;
masks;
hats;
wigs.
You can also put a temporary tattoo on yourself. This option is perfect for those who want to try something new. Feel free to experiment with makeup! At a minimum, you'll realize what looks don't suit you, and at a maximum, you'll create a new style for yourself.
Get really close to your face
If you want to take a beautiful artistic self-portrait, then feel free to ignore the rule about not getting too close to your face. The point of this idea is to accentuate something. You can shoot just the eye, the lips, or a strand of hair. Either way, it will look perfect.
Make a collage
Sometimes a composition of several photos will look much more interesting than if it were one. Depending on the app you use, you can make a collage of 2-8 pictures.
The beauty of collages is that you can combine photos from completely different styles. This even applies to portraits where the face is up close and pictures were taken full-length.
No one can argue that photos with pets always look great. It can make your photo shoots really fun and make you feel more comfortable in front of the camera. We advise you to forget about the fact that this is a photo shoot, and just have fun, because the beauty of such pictures lies in their naturalness.
Naturally, it's worth taking care of your pet. If he does not like to pose for the camera, it is better to choose another moment.
Take out-of-focus photos
More often than not, pictures taken out of focus can disappoint you, but not in this case. When it comes to portraits, you have the opportunity to create a mysterious bokeh that looks extraordinary. We recommend that you definitely try this to see for yourself.
What to consider when preparing
So, here are a few tips to help make the shoot perfect:
Take self-portraits in the comfort and safety of your own home. It is not always necessary to take pictures in the street or in a place where there are a lot of people. Your home is a great option where you will be as comfortable as possible.
Don't be afraid to use artificial light. Lamps and torches will allow you to shoot ghost photos in the dark. You can also use a ceiling light for art photos in a small room.
Use a wide-angle lens. It captures more space, so it's great for shooting in small rooms. It makes it unnecessary to take thousands of steps away from the camera!
Use photo editors. As cliché as it may sound, they will allow you to make your photo unique. Try different filters and angles to get the best results. You can also make your portrait black and white or adjust the colors.
Conclusion
We hope we were able to help you find interesting and useful ideas for self-portraits. If you are interested in photo poses for women that will make you look perfect in the frame, visit Skylum's blog! There is information not only about women's photography poses but also many other interesting articles.