Are your videos and recordings sounding less than perfect? Whether you're a content creator, a business professional, or just someone who enjoys capturing moments, the quality of your audio and video recordings can significantly impact the overall experience.
Fortunately, there's a solution that can transform your mediocre audio and video into something exceptional: Audioenhancer.ai.
This innovative technology offers a straightforward and effective way to enhance the sound quality of your recordings, making them more engaging, clear, and professional.
In this article, we'll explore how Audioenhancer.ai can elevate your audio and video content, helping you create a lasting impression on your audience.
A Brief Introduction to Audioenhancer.ai
AI Audio Enhancer is your go-to solution for enhancing the quality of your audio and video recordings.
The best part? It's completely free and incredibly efficient. If you've ever struggled with videos or audios that sounded a bit fuzzy or unclear, this tool is here to make things crystal clear.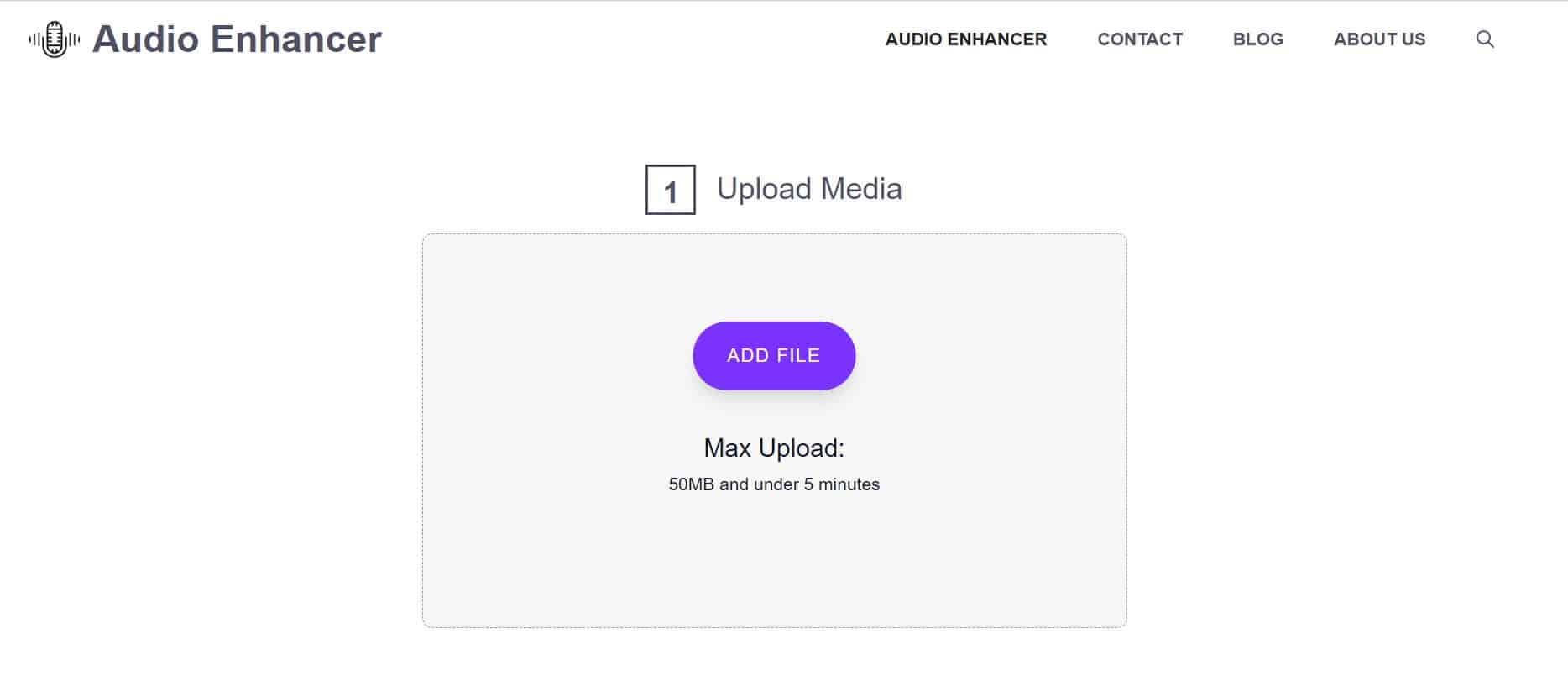 With Audio Enhancer AI, you can count on your videos and audios becoming much clearer and more enjoyable to listen to or watch. Say goodbye to muffled sound or unclear voices, and say hello to an enhanced audio-visual experience that will leave your audience impressed.
Features That Help in Making Your Audio and Video Recordings Sound Better
Let's have a look at some notable features of Audioenhancer.ai!
1) Removes All the Background Noises
AI Audio Enhancer employs cutting-edge noise reduction technology to eliminate unwanted background noises from your audio and video recordings.
Whether it's the hum of an air conditioner, traffic noise, or the rustling of papers, this feature identifies and isolates these disturbances, leaving you with clean, clear audio.
Check out: Best Amazon Music Converter Review [2023 Update]
By removing background noise, your audience can focus on the essential elements of your content without distractions, making your videos and audios much more enjoyable.
2) Improves the Overall Quality of the Audio
This audio enhancer goes beyond noise reduction. It enhances the overall audio quality, making voices and sounds more distinct and vibrant. It enhances frequencies, tones, and dynamics, resulting in a crisper and more engaging audio experience.
No matter if you're recording a podcast, a lecture, or a video interview, AI Audio Enhancer ensures that your content sounds professional and polished.
3) Clean Up the Speech
For those who deal with spoken content, such as podcasts or interviews, Audioenhancer.ai excels in cleaning up speech. It clarifies and sharpens voices, ensuring that every word is easily understood.
This feature is particularly valuable when dealing with multiple speakers or challenging recording environments.
4) Fix the Loudness and Levels
AI Audio Enhancer optimizes the loudness and levels of your recordings. It ensures that audio remains consistent throughout your content, preventing sudden volume spikes or drops that can be jarring to the listener.
This feature ensures a smooth and balanced audio experience, allowing your audience to engage with your content effortlessly.
5) Good for Various Content Types
Whether you create YouTube videos, podcasts, webinars, or any other form of audio or video content, Audio Enhancer is versatile and compatible.
It adapts to different content types and recording conditions, making it a valuable tool for content creators across various genres and industries. It consistently delivers high-quality results, regardless of your specific needs.
How to Enhance Audio and Video Recording Using Audioenhancer.ai?
Here's a step-by-step guide to help you get started:
➢    Upload Your File
Begin by visiting the Audioenhancer.ai website. Once you're there, look for the "Upload" button or a similar option. Click on it, and a window will pop up, allowing you to select the audio or video file you want to enhance from your computer. Click "Open" to upload your file to the platform.
➢    Choose Enhancement Type
After your file is uploaded, you'll see a dropdown list with different enhancement types. These options include noise reduction, quality improvement, speech clarity, and more. Select the enhancement type that best suits your needs by clicking on it.
➢    Select Content Type
Next, you'll see another dropdown list where you can choose the content type of your file. This helps Audioenhancer.ai fine-tune its enhancements for your specific type of recording. For example, you might choose "Podcast," "Interview," "Music," or another relevant category.
➢    Hit the Enhance Media Button
Once you've chosen your enhancement type and content type, it's time to work the magic! Locate the "Enhance Media" button or a similar option, and simply click it. Audioenhancer.ai will start processing your file, applying the chosen enhancements to make your audio and video recording sound better.
➢    Download Your Enhanced File
After the enhancement process is complete, you'll usually be provided with a download link or button. Click on it to save the enhanced audio or video file to your computer. Congratulations, you now have a cleaner, improved recording ready to impress your audience!
Who Can Use this Audio Enhancer?
Audioenhancer.ai is a versatile tool that can be embraced by a wide range of individuals, regardless of your background or profession. Here's a glimpse of who can benefit from this user-friendly audio enhancer:
1. Vloggers
If you're a vlogger creating content for platforms like YouTube, Audioenhancer.ai can help you improve the audio quality of your videos. Your audience will appreciate the clarity of your voiceovers and the reduction of background noise.
2. Video Editors
Video editors often work with various types of footage and audio tracks. This tool can be your secret weapon to enhance the sound in your videos, ensuring that your final edits have professional-grade audio.
3. Podcasters
Podcasters rely heavily on clear and engaging audio. Audioenhancer.ai can clean up speech, eliminate unwanted noise, and make your podcasts sound more professional, keeping your listeners coming back for more.
4. Business Professionals
Whether you're recording webinars, presentations, or conference calls, this tool can elevate your audio quality, leaving a lasting impression on clients, colleagues, or partners.
5. Content Creators
From musicians to educational content creators, anyone producing audio or video content can benefit. Enhance the quality of your recordings and captivate your audience with crystal-clear sound.
Pricing Structure of Audioenhancer.ai
The great news is that Audioenhancer.ai is entirely free to use, which means you don't have to spend a single penny to access its powerful audio enhancement capabilities.
You can enjoy all the features and benefits it offers without any cost, making it a budget-friendly solution for improving the quality of your audio and video recordings. So, feel free to enhance your content without worrying about pricing or subscriptions.
Wrap Up
Audioenhancer.ai is the go-to tool for improving your audio and video recordings without any cost. Whether you're a vlogger, podcaster, student, or just someone who wants clearer sound, this user-friendly tool has got you covered.
With features like noise reduction, speech clarity, and content type customization, it's a versatile choice for all.
So, give your recordings the quality boost they deserve and create content that truly shines with Audioenhancer.ai, all without breaking the bank. Start enhancing your audio and video today!
Check out: How to Record PowerPoint Presentations with Audio (100% Works!)