Razer Blade, one of the most well-known gaming brands, is noted for its ultra-thin design, which frequently competes with its competitors. You may be wondering how this compact laptop can be a gaming laptop, but Razer is well-known for this. The Razer Blade 15 Advanced is the fourth most expensive gaming laptop globally and one of the best.
What the Razer Blade 15 Advanced Gaming Laptop Has to Offer
If you want a gaming laptop that looks like a premium product rather than an edgy toy, the Razer Blade 15 is still the greatest illustration of what that could look like – that is, if you have the cash. Razer Blade 15 is available in two models: a basic model and an advanced variant. If you've seen just one Razer Blade laptop over the last few years, you've seen them all. The new Blade 15 Advanced is another monochrome, monolithic aluminum machine. However, this one is a beast on the inside, boasting enough year-over-year enhancements to warrant your attention. This gaming laptop comes equipped with an abundance of connectors and 1TB of storage.
Razer Blade 15 Advanced Gaming Laptop: Specs and Design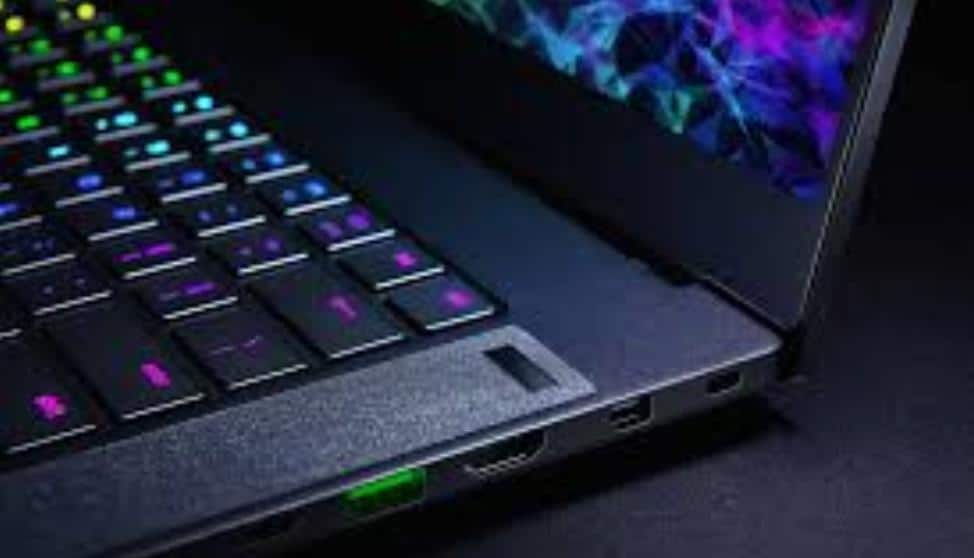 In a world of huge slabs, the Blade 15 was one of the first high-end gaming laptops to be somewhat portable. Razer updated the Blade 15 with a more squared-off design and slimmer screen bezels. Since then, it has undergone only a few iterative changes, but that is not a cause for complaint. Its slender design remains one of the most slimline among gaming laptops regarding aesthetics, quality, and mobility, all while boosting performance beneath the hood. It's easy to propose the first high-end Blade for a variety of additional use cases. It's more portable than the majority of other behemoth gaming laptops. The all-black paint job, sharp edges, and sleek appearance combine to create a distinctive profile that numerous competitors have emulated in their more modern designs. The Razer Blade 15, one of the leading gaming laptops to enter the market, has established a reputation for itself by packing the best mobile tech inside its gorgeous shell.
Check out: What are the best gaming laptop brands in the World?
Processor
The RTX 3070 graphics processor consumes a maximum of 95W and operates at a clock speed of 1,290MHz (boosting up to 1,410MHz). Unsurprisingly, considering the Laptop's slim profile, the GPU is limited compared to the MSI GP66 Leopard. That is not to suggest, however, that it is incapable of gaming. For instance, Red Dead Redemption 2 ran at 1440p with extreme graphics enabled at an average frame rate of 59 frames per second. Shadow of the Tomb Raider, which was likewise tested at its top settings and with ray-tracing shadows set to ultra, averaged 46 frames per second. The fact that additional NVMe M.2 storage may be added via the second available slot is a tiny consolation, but you'll have to pay for it. Returning to testing, the open-world game Horizon Zero Dawn averaged 71 frames per second when all visual effects were set to extreme.
Razer Blade 15 Battery
Razer includes a small 230-Watt AC Adapter with each Blade 15, and it's worth noting that they've switched to a unique rectangular power socket. It enables them to provide a substantial amount of power through a relatively tiny connector that fits snugly into the chassis. Unlike some barrel plugs or multi-pin connectors, this connector feels significantly more sturdy than virtually any other gaming laptop system. Razer offers two different battery configurations, with the standard model using a 65 Wh battery and the Advanced model featuring an 80 Wh battery. Additionally, Razer offers NVIDIA Optimus, which is not available on many gaming laptops, which enables the dGPU to be disabled when not in use to preserve power—a feature that, even with the QHD display's 165 Hz refresh rate, will almost surely raise the system's basic power draw. The screen quality is excellent, with vibrant colors and crisp images, and the slim bezels contribute to the overall streamlined design.
Display
Over the last two years, high-refresh-rate displays have become more prevalent on gaming laptops. It has typically taken the shape of full HD (1080p) panels with 144Hz refresh rates, with more expensive systems offering 240Hz or even 300Hz full HD displays. This setup is quite powerful, and it is capable of running all of today's most demanding games at high frame rates, thanks to the native 1080p resolution of the monitor.
Price Tag of the Razer Blade 15 Advanced Gaming Laptop
The razer blade is separated into four pricing groups. From $1700 to $3000. The RTX 3060, 144HZ, 512GB is priced at $1700, the RTX 3070, 144HZ, 512GB is priced at $2000, the RTX 3070, 360HZ, 1TB is priced at $2600, and the RTX 3080, 360HZ, 1TB is priced at $3000. You can also choose the best laptops under $2000 pricing tag.
Cooling System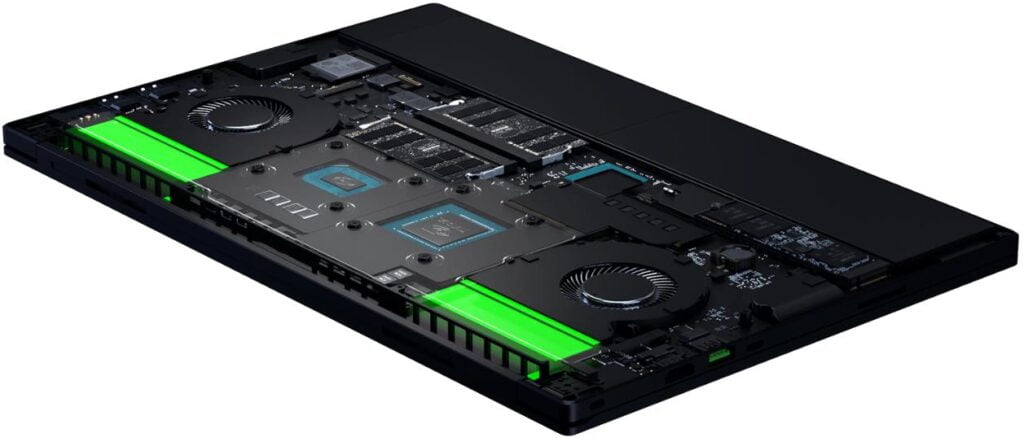 In laptops, temperatures of 90C or above on the CPU/GPU can be deemed excessive. There are gaming laptops that reach that temperature during a stress test. However, a good laptop should reach a maximum temperature of 90C, but the average temperature should be lower. Nonetheless, it is prudent to avoid any computer above 90 degrees Celsius during a stress test, as cooling efficiency declines with age. Even if you are not gaming, the temperature can be a problem. When I exported a five-minute, 33-second 4K film from Adobe Premiere Pro, this system became hot, but it completed the process in four minutes, nine seconds at its fastest. While less demanding games such as Hades will not cause the temperature to increase excessively, its insufficient cooling means you'll want to use it on a desk while gaming. Additionally, do not be shocked if you sense some heat rising toward the palm rests. The Blade 15 incorporates a vapor cooling chamber, which is important considering its thin profile. It can get quite warm, if not plain scorching, in certain areas. On either side of the touchpad, the keyboard and deck are largely merely warm.
Check out: Top 10 Best Gaming Mouse 2021 – Best Buyer's Guide
From left to right
On the left, the charging plug for the Razer, two USB-A 3.2 Gen 2 ports, a USB-C 3.2 Gen 2 port, and a 3.5mm headphone jack. On the right, a UHS-III SD card reader, a Thunderbolt 3 port, a USB-A 3.2 Gen 2 port, and HDMI 2.0 are located.
Razer Blade 15 Pros
The keyboard layout has been refined
1440p display with ample GPU horsepower to take advantage of its 240Hz frame rate
Battery life has been extended
RAM and SSD configurations are completely customizable.
The touchpad of superior quality
Synapse program is straightforward to use.
Elegant, slender design with a superior metal construction
Numerous connections and a storage capacity of 1TB
Razer Blade 15 Cons
Starting price is quite high.
It becomes noticeably warm.
Inadequate webcam quality
Experience in General
The Razer Blade 15 boasts a sleek, slim design with a premium metal chassis and one of the most powerful CPUs available, but the one downside is that it's somewhat pricey but well worth it. If you're on a budget, choose your favorite to enjoy one of the best gaming experiences possible.