The bulk weight of the 21-inch, almost 19-pound laptop will almost always surprise you if you're seeing it for the first time. One has to take it out of the custom Pelican case in which it ships in. The weight of this Pelican case will provide a great deal of struggle if one wants to carry it from one place to another place. The Acer Predator 21 X is a gaming laptop that appears to have grown powerful by feeding on the blood of smaller gaming laptops. The panel is more significant than a MacBook Pro on its own.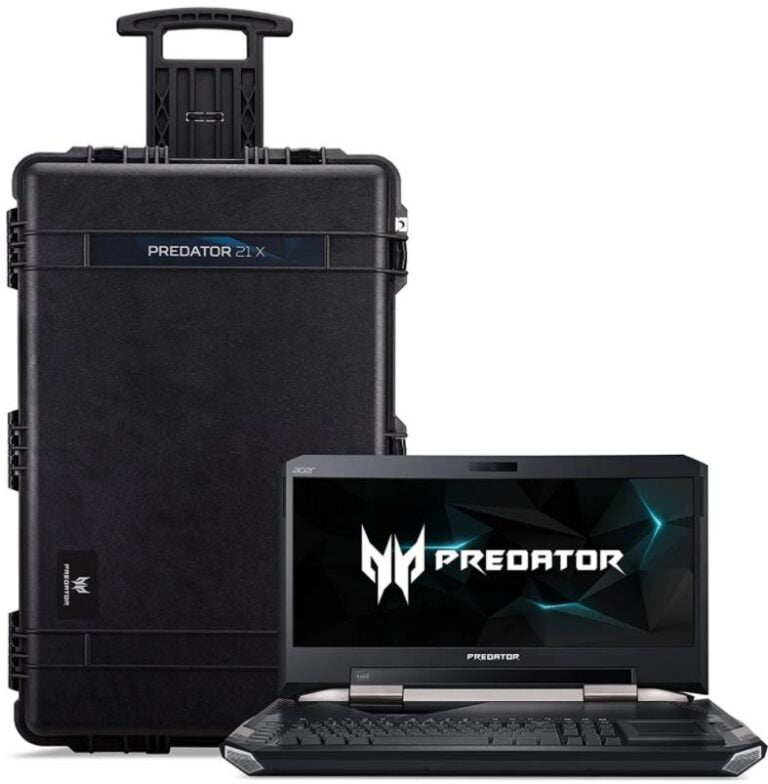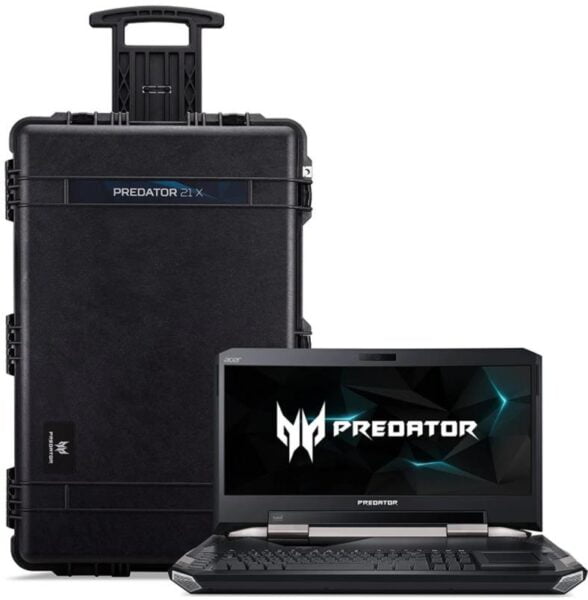 The Acer Predator 21 X Gaming Laptop was never intended to be a realistic or affordable alternative when it was first unveiled at IFA 2016. It's the ultimate "what if?" unit, a look at what hardware designers can do when logic and common sense are thrown out the window.
The Acer Predator 21 X Gaming Laptop: World's largest, Powerful, and the Most Expensive Gaming Machine
The Acer Predator 21 X Gaming Laptop is physically dwarfed by most other laptops, weighing in at an incredible 18.76 pounds. Weight isn't the only area where the 21 X outperforms the competition, with a price tag of $8,999.99. Simply put, this is the world's largest, most powerful, and most expensive gaming laptop. Yes, it's still a laptop, with a built-in screen, keyboard, mouse, and batteries that allow it to work away from a desk, at least in theory.
Acer has made the most of the 21 X's immense scale by cramming some significant firepower into what seems like every inch of it. The Acer Predator 21 X Gaming Laptop spec sheet, like its exterior design, seems to be designed for extreme supremacy. An Intel Core i7 Skylake processor that has been overclocked to 4.1 GHz. Two GTX 1080 GPUs connected in SLI, with a total of 16GB of dedicated onboard VRAM. USB-C, USB 3.0, HDMI, two DisplayPorts, and an SD card slot are all included. DDR4 device RAM of 64GB. There are five of them. There are five memory slots in total: three SATA and two PCIe. Acer ships one configuration with one 1TB hard drive and two 500GB SSDs in RAID. For added immersion, there is a use of a Tobii eye-tracking rig. Of course, there's the jaw-dropping curved 21-inch screen, which Acer touts as the world's first in a laptop.
The Acer Predator 21 X Gaming Laptop: Design & Features
Although the size and specifications of the Acer Predator 21 X Gaming Laptop are impressive, Acer hasn't made any dramatic design changes. This gaming laptop has its slew of glowing LED lights, sharp edges on the plastic shell, giant plastic exhaust vents, and the enormous metallic blue dragon. This blue dragon Metalic skin graces the vast expanse of space above the keyboard.
Battery Life
Even compared to the lower standards for gaming laptops, The Acer Predator 21 X Gaming Laptop battery life is a letdown. Unplugging it for gaming yielded even worse results, reducing the time to under an hour. However, exact figures depend on us as well as a performance need. The Predator could theoretically be used unplugged for a few minutes. Still, it was explicitly built to be connected to the nearest power outlet. There are two power supplies, each enormous in its own right. This feature makes it even more amusing when put together in the laptop's custom rubber enclosure.
Daily office Work Perspectives! ACER 21X Does not compliance
Predator 21 X focuses only on gaming features. The 21 X is not up to the challenge of everyday computing.
In a nutshell, The Acer Predator 21 X Gaming Laptop isn't very good at standard machine functions. Its size feature, which we have already discussed extensively. But squeezing through a door while desperately trying not to drop the $9,000 machine, you can imagine how ridiculous it will be to use it in an office environment.
ACER 21X! The Noise Element
The Acer Predator 21 X Gaming Laptop also comes with a complete mechanical keyboard with regular desktop Cherry MX Brown switches. It's so noisy that it will disturb any worker working nearby of the 21X. The use of MX Brown switches is a good compromise for both typing and gaming, but this massive noise could still irritate some people.
Check out: Best Smartphones of 2020: Best Phone Ranking
Keyboard Specifications
However, the keyboard is inconvenient for non-gaming purposes. It is located right at the laptop's front edge rather than further back. As a result, there's no natural place to rest your palms unless you use the optional magnetic palm rest, which adds another item to your bag. However, considering the height at which the keyboard sits due to the thickness of The Acer Predator 21 X Gaming Laptop. It is pretty uncomfortable to use for long durations, forces us to use a traditional laptop to get actual work done.
The same can be said of the screen. The large 21-inch curved panel appears to be ideal for efficiency on paper. However, at 2800 x 1080 pixels, the resolution is relatively low. It's big. Still, it's the exact vertical resolution as a standard 1080p screen.
There's also the trackpad, which can magnetically detach and flip over to become a number pad. The trackpad on Windows computers is very lovely. The series of swipes and gestures all work well, and Acer has included Windows Precision drivers, so it's precise. However, even with mouse sensitivity turned up, the trackpad is too tiny for navigating such a large screen.
When it comes to games, all these questions fade away about ACER's 21X.
To be clear, when it comes to gaming, all of these problems — the keyboard, the screen, and the trackpad disappear. Although the keyboard is inconvenient for typing, it is much more pleasant for mashing the WASD keys while running around in Overwatch. In Battlefield 1, the screen, which previously resulted in comically sized windows for most websites, provides a broad, almost cinematic experience. And as for the trackpad, if you're using it to play games on the 21 X, you're already missing the point.
What About The Acer Predator 21 X Gaming Laptop's Performance?
If you do advanced CAD work or intense video editing, you may be able to trip up the 21 X. In the end, using The Acer Predator 21 X Gaming Laptop for everyday tasks is like driving a Lamborghini to the store — it'll get you there, but that's not the point of owning one.
There's surprisingly little to say when it comes to playing games on the Predator 21 X, which is its sole aim. This is a $9,000 computer explicitly designed for that purpose. Of course, it performs admirably in sports. It would have been shocking if things didn't run smoothly with the hardware on hand.
Of course, the 21 X performs admirably in play.
Nonetheless, it was our responsibility to bring the Predator through its paces, and the outcomes were pretty predictable. But it's the reality of gaming on the Acer Predator 21 X Gaming Laptop that makes it stand out, not the binary of whether or not games played well. Put practicality aside for a moment, and you have access to possibly the most powerful laptop ever created. The curved screen dominates your vision, making for a more immersive experience assuming the game you're playing embraces a 21:9 aspect ratio.
And this thing is insanely, almost unnecessarily quick. Overwatch, one of the top favorite games for comparing gaming PCs because it runs on nearly everything, barely fell below 200 frames per second. Even at Ultra settings, Battlefield 1, one of the most graphically demanding games on PC these days, ran smoothly. Even at full resolution, Rise of the Tomb Raider's sweeping vistas looks fantastic. Plus, all things considered, the 21 X runs quietly unless you deliberately set the fans to capacity, in which case the five fans spin up to gale-force winds.
The Acer Predator 21 X is barely more portable than a desktop computer.
However, although impressive, this is the type of high gaming success that demonstrates why the Acer Predator 21 X Gaming Laptop is impractical. Does the Predator 21 X gaming laptop do well in games? Without question. However, it does not run them $6,000 better than a less powerful or even equivalent laptop. The 21 X is barely easier to cart around than a notebook; thanks to the sheer bulk of the computer and chargers, the almost non-existent battery life, and the large carrying case, you'll need to bring it somewhere other than down the hall. There are plenty of portable desktop computers. Even if you only want to park the Predator 21 X at a desk and say it's a desktop computer, you'll almost certainly want to use a larger external monitor and a separate keyboard, which might be challenging to fit on a single surface. Given that a similar specification's desktop PC can be built for approximately half the price of the Predator 21 X, you're paying a hefty premium for what amounts to a ludicrous notion of mobility.
But that's part of the Predator's appeal. It's not realistic because it's not supposed to be. For whoever buys it, it's a prize, a status mark of owning the biggest and best laptop out there. Of course, it won't fit on a desk or in a purse since the Predator is designed to draw attention to itself.
Despite its price and practicality drawbacks, the Acer Predator 21 X Gaming Laptopexists. At the same time, the 21 X is possible as out of reach for the overwhelming majority of buyers as a multi-million dollar supercar on display at an auto show, just like a Bugatti or a Ferrari, the technology and engineering that went into producing it will filter down to Acer's more affordable Predator models. It's something we're already seeing with laptops like the forthcoming Predator Triton 700, which borrows heavily from its larger sibling in terms of design. It's just incredible that someone has managed to cram this much hardware into a single computer to accomplish this particular goal at the highest possible level.
Check out: Top 10 Best Gaming Laptops 2021: Top Laptops to Buy