After Effects allows designers to create animation and graphic-based works, such as videos and icons; because it has a wide range of features, it is the second most popular software used by professional designers.
However, any aspiring designer needs to learn to use After Effects because the opportunities are endless. After Effects allows users to create digital objects or render real-life objects in 3D for advertising purposes, graphic artists can also use After Effects to design interactive animations that entertain audiences or reveal information about products.
A lot of After Effects features are designed with users in mind. It has an intuitive interface that can be adjusted quickly based on what you need it to do. We've compiled a list of the finest online After Effects tutorials for 2022 in this post. So, let's dive in!
How Can After Effects Help Graphic Designers & Animators To Design Better?
After Effects is advanced software that allows designers to create and manage animations; however, it requires a lot of work and skills to be used efficiently with the demand for animators; after Effects is becoming an essential skill needed by companies and creative professionals. It's also being utilized to help designers with no or limited expertise in 3D animation broaden their horizons. It can also benefit other fields like creating infographics and web design. It can help designers manipulate different types of content like text, shapes, and colors.
After Effects provides designers and animators with incredible tools to turn their ideas into reality, through sophisticated motion graphics and workflows, these designers can create digital scenes that give life to their work.
For all these reasons, learning After Effects is crucial for any designer hoping to advance their career in animation or graphic design.
Top Online After Effects Courses
1. Learnvern's Top After Effects Tutorial
Learnvern's After Effects tutorial is an online tutorial that provides step-by-step guidance on how to create and export a professional video project using this software. This tutorial is also suitable for beginners to experts.
Learnvern's tutorials are designed to be engaging and easy to follow. It walks users through the process of creating material from start to finish, requiring no prior knowledge of any software or format.
2. After Effects Course by Tops Technologies
Tops Technologies' course is a new way to learn about After Effects that includes video tutorials and interactive projects.
Tops Technologies has launched a new way for people to learn After Effects without the hassle of taking classes at brick and mortar schools. This new course is primarily focused on teaching users how to use tools so they can create impressive videos, games, and animations.
The After Effects course covers topics like the basics of animation, creating 3D objects with Cinema 4D, using lighting in After Effects with mental rays, working with keyframes in AfterEffects, and using masks and filters in the program's effects panel.
3. Adobe After Effects Master Course by Billi4You
The Adobe After Effect Master Class by Billi4You will walk you through using this software and its different features step-by-step. You will also be provided with additional tutorials on creative concepts like lighting, color grading, and compositing.
The Adobe After Effects Master Course will help you learn more than 100 different software features. You'll also have access to a free resource collection with over 200 scripts, tips, and lessons from some of the industry's top creatives.
Check out: Adobe Announced Adobe Illustrator App For iPads
Billi4You gives a complete overview of this software for both beginners and advanced users who want to learn about it from the ground up. It also includes case studies on how each feature is used in real-life situations.
4. After Effects Intro & Training Course by Media Training
Media Training provides a complete training course on After Effects that can help users gain the skills necessary to use the software.
Media Training is a full-service media company specializing in digital video production, graphic design, and marketing. They deliver cutting-edge presentations and training services for your next event or project.
After Effects is a high-end software used in the production of motion graphics, visual effects, and compositing, it provides an industry-standard platform for moving images and has been used by many famous Hollywood directors. The training course by Media Training will show you how to use this software.
The training course from Media Training will introduce you to the basics of After Effects and a live project assignment. You'll also learn to use popular tools like graphics and text layers, filters, transitions and animations, text effects, and motion tracking in the application.
5. Adobe After Effects Course by Acme Collins School
You may want to learn about the latest graphic design tool called Adobe After Effects. There are tons of courses available on the internet but finding one that meets the needs of a current consultant is a real challenge. This course will help you take your skillset to the next level by teaching you how to use Adobe After Effects practically.
Adobe After Effects is one of the most popular graphic design tools, and you can get great results with it. It works on different operating systems like Windows, Mac, and Linux so that it can be used for both work and personal projects alike.
Adobe After Effects Course by ACME Collins School will teach you all about this tool, its functionality, and creative applications. With this course, your knowledge on creating excellent illustrations, animations, photo-manipulations, and much more.
Salary Estimation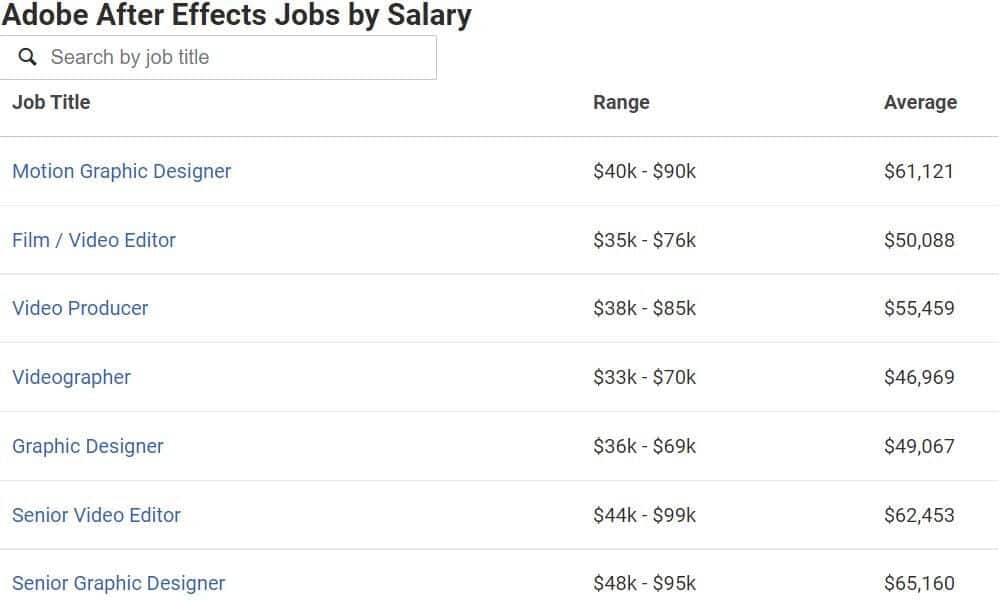 Creative designers have a tough time getting jobs and retaining them. They often lose out to other types of professionals who can easily apply for these jobs. However, companies realize that these designers offer skillsets that are uniquely theirs and could be used to create more value for their company.
Companies are now investing in creative designers to increase their salaries, leverage their skillsets, and make their companies more valuable in the market.
Conclusion
Animation and graphic design are two of the most sought-after skills for any designer. To be a good designer, you must learn multiple tools such as Photoshop, Illustrator, After Effects, etc. However, learning After Effects is key to achieving a solid foundation in animation and graphic design work.
The importance of learning After Effects goes beyond its usefulness to designers. If you are an aspiring animator or a digital artist, it will take your skillset to the next level.
Check out: The 8 Top Web Design Trends