Product storage and retrieval are some of the biggest aspects of running a warehouse, but they also tend to be some of the simplest. Virtually anyone can walk over and grab a package off the shelf, but this form of manual labor is in danger of going extinct. Warehouses large and small are investing in AS/RS, which stands for automated storage and retrieval systems.
But how do these systems work and how can they help you make the most of your existing warehouse? Learn more about the benefits of AS/RS and why it's considered the future of warehousing.
Types of AS/RS Systems
Automated storage and retrieval systems are designed to automate virtually every part of the picking and sorting process. Goods and packages travel around on a series of compact robots that automatically navigate the space. Each bot follows a precise picking path that leads to and from the storage area.
Every barcode or SKU has a specific place on the shelf. The robot scans the included barcode, so it knows exactly where to go without deviating from the path. The robot will then either place the product on the shelf or pass it off to an automated lift truck that slides it into place.
The same is true of the picking process. As soon as the order comes in, the robots will go to work retrieving items off the shelf and bringing them to the loading dock. Some AS/RS systems will even retrieve packages and shipping labels, so the product is ready to go when it reaches the loading dock.
There are two types of AS/RS systems, including unit-load and mini-load systems.
Unit-load systems are designed to handle pallet-sized loads that may weigh up to several thousand pounds. Considering the size of each load, the system uses moveable or fixed-aisle cranes to move merchandise through the facility. These kinds of systems tend to be much more expensive than mini-load systems, but it's one of the fastest ways to move large quantities of goods and bulky materials. Unit-load systems often use bulk containers when handling these items.
Mini-load systems are reserved for smaller packages and goods, including those typically associated with the eCommerce market. The robots handle compact containers, such as cardboard boxes, plastic totes and other consumer-friendly options. The machines follow a precise track as they rove around on the floor. Multiple robots can retrieve multiple packages at once for ultra-fast order fulfillment.
The Benefits of AS/RS
Traditional product picking is about to go the way of the dinosaur. Having workers physically stock and retrieve items from the shelf can be a colossal waste of time and money. It can even be a threat to your employees. Studies show traditional product pickers spend around half their time traveling from one item to the next. All that walking, bending and picking can take a toll on your workers' physical health, leading to muscle aches, sprained joints and chronic pain in the back and neck.
Check out: Robots Have Been Important in the Fight Against Covid-19
AS/RS improves the ergonomics of your warehouse, so your workers don't have to worry about running themselves down over the course of their shift. They will stay in the loading dock or order fulfilment zone as the machine brings products and packages directly to them. Conveyor belts should be installed at around waist height, so workers don't have to bend down to grab what they need.
When it comes to efficiency, the AS/RS system reduces your dependence on labor. You can fulfill orders and retrieve inventory with fewer workers without asking them to work overtime. This will help you reach ROI as you look for other ways to reduce costs.
The system also improves inventory accuracy and reduces downtime. As long as these products stay where they belong, the robots should be able to find what they need without fail every single time. You don't have to worry about your workers getting lost in a maze of aisles or running into each other. The AS/RS system leaves nothing to chance. This will help you anticipate order fulfillment times, so you can get every order out the door on time. Studies show AS/RS systems can increase order accuracy levels to above 99.99 percent.
The system is also designed to keep humans away from the storage area. This means you don't have to spend money on lighting, air conditioning and temperature control, as long as it won't affect the quality of your products. You also don't have to waste money charging lift trucks and hand carts. The robots are designed to consume as little electricity as possible while following the shortest route. You can cut your utility bill in half while keeping your team on task.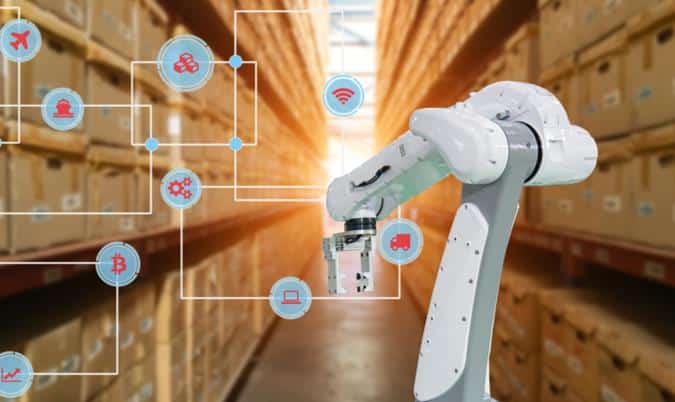 Putting AS/RS to Work for Your Facility
If you're interested in implementing this technology, there are a few things to keep in mind.
Find an AS/RS system that works with your existing warehouse space. Most systems are both scalable and flexible enough to suit most kinds of work environments. You shouldn't have to build a new space from scratch or spend a fortune adding on to your facility to make the new arrangement work.
Product pulling varies from product to product. You should be able to control which side of the rack the robot pulls from. Consider how long the product has been on the shelf. Use a first-in/first-out system to keep your inventory from sitting on the shelf for years on end.
Look for a highly customizable automated warehouse system that lets you make changes as you go.
Don't forget to spot check your merchandise when implementing an AS/RS system. Your workers should monitor the rollout of the new system to make sure your goods are moving through the supply chain as planned.
You don't have to automate every aspect of your warehouse when making these changes. The robots don't have to do all the work. Some things are better left to humans. Use industrial wire baskets to keep some of your inventory visible, such as packaging supplies, commonly misplaced items and other must-have materials.
Summing Up
There are so many ways to put AS/RS technology to work. Consider changing the way you store and retrieve products to increase efficiency at every turn.