Most gaming mice tend to work well for any game, no matter their design size and feature set. The new Razer Naga Pro wireless mouse shows how well equipped it is for several games with its modular. Magnetically mounted side-button panels make it a fantastic choice for various gamers, particularly for those who require different buttons for multiple commands such as RTSs, MMOs, MOBAs, and "battle royal" games like Fortnite.
The Naga Pro is a wireless update on the Razer Naga 2017 Trinity, with its popular shape-shifting functionality and the ability to link via Bluetooth to your Desktop or use the included 2.4GHz wireless adapter. It is available for $149.99 starting today
Check out: Padrone Ring – Human Hand Turned into a wireless Mouse
The Naga Pro looks like a customizable gaming mouse; it filled my palm comfortably while giving my ring finger a comfortable place to rest. Aside from going wireless, the main change from the Naga Trinity is that one of the three swappable button plates no longer has a radial shape. Now it is a compact six-button cluster that takes on the design of standard side buttons and fits nicely inside my thumb. Its other two plates are different, one containing 12 buttons and one with two regular side buttons.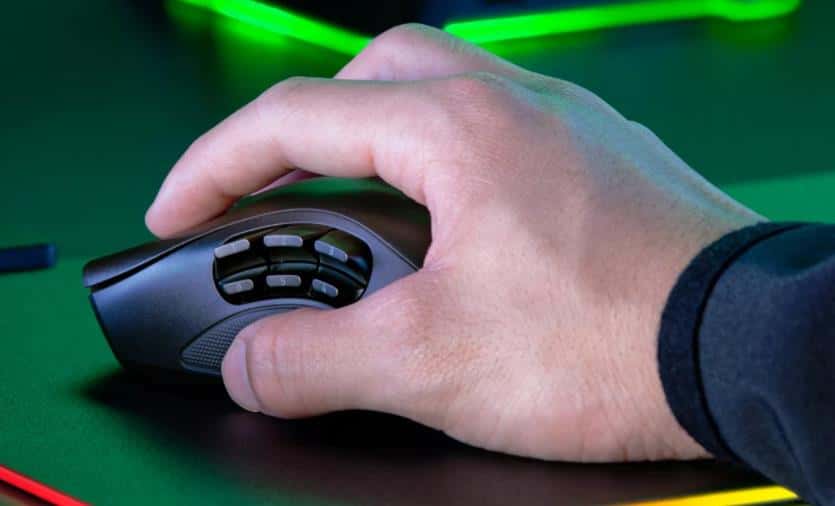 The Naga Pro comes with the Razer's 20,000 DPI optical sensor Focus+, like its excellent DeathAdder V2. It also uses optical switches, which act faster than mechanical switches on every press. This gaming mouse offers far more customization flexibility than any other mice from Razer and most on the market options. Using the Razer Synapse 3 app, each button can be customized. And with support from the mouse for up to five onboard storage profiles, you can customize several control schemes for each detachable side-button plates.
The versatility of this wireless gaming mouse extends to how you can attach it to your machine.  It supports Bluetooth or 2.4GHz wireless. The receiver is placed under its compact button plate.
The company says its Wireless Receiver can provide up to 100 hours of performance and 150 hours over Bluetooth. The Naga Pro charges with Razer's snag-free Speedflex braiding via the provided Micro USB cable. Or you can charge it through a dock from Razer that comes packaged with some of the precious Ultimate-branded wireless gaming mice from Razer; the Naga Pro can also recharge as it rests on it.