How SFP+ Transceiver Works
Both SFP-10G-SR and SFP-10G-LR belong to the SFP+ transceiver portfolio. They are the two most popular SFP+ transceivers, corresponding to short-distance and long-haul applications. What is an SFP+ transceiver? And How does the SFP+ transceiver work? Next, this article will introduce them in detail.
The optical transceiver is one of the most important parts of the optical communication network. Nowadays, driven by new market requirements like 5G, supercomputing, and large-scale data centers, optical transceivers are in great demand. It is becoming more important to make the transceivers with smaller size, higher density, lower power consumption, pluggable, and higher reliability, so SFP+ fiber optic transceivers are here.
10G SFP + optical transceiver module integrates transmitting and receiving parts. It comprises optoelectronic devices, optical interfaces, and related functional circuits. It is divided into transmitting, receiving, and MCU control. The transmitting part converts the electrical signal into the optical signal. The receiving part couples the optical signal to the photodiode converts it into an electrical signal, then converts it into a voltage signal and amplifies it. The control part realizes the control of the transmitting and receiving part and the communication with the motherboard.
Features of SFP+ Transceiver
Ultra Miniaturization
The SFP + module adopts a very highly integrated IC (Integrated Circuit) to independently complete various functions such as adaptive laser control, temperature compensation, laser driving of laser transmitting module, limiting amplification, pre-amplification, signal abnormal alarm functions of the receiving module.
SFP+ transceiver module is smaller than that of single form laser transmitting module or laser receiving module and smaller than that of other encapsulated laser communication system modules because it is a coaxial laser module with an LC connector. It can also be installed more intensively on Ethernet switches and routers, up to 32, 64 SFP+ ports or even higher.
Low-Cost
SFP+ module saves raw materials and saves manufacturing and processing time compared with the previously separated single receiving and single transmitting modules. 
High-reliability
IC control and isolation technology are adopted inside the SFP+ optical module to ensure the reliability of the internal circuit. The coaxial package of the tube shell is adopted to ensure the service life of laser devices. In the module manufacturing process, the laser welding process is adopted to improve the reliability of its work. In the inspection of optical components, the reliability test of high international standards is followed to ensure the overall reliability of the laser communication module.
High-performance
The transmitting and receiving amplification circuits inside the laser communication system module are completely independent, and the power supply is used independently, reducing the interference between the two.
Hot-pluggable
SFP+ transceiver adopts the definition form of gold finger pins with different lengths, which makes the power on the sequence of different functional pins have a certain order when the module is powered on, ensuring that the SFP laser communication system module can be hot-pluggable when its gold finger socket is charged, which facilitates the maintenance and management of communication equipment.
DDM Function Supported
SFP+ transceiver monitor and report the relevant working parameters (voltage, temperature, current, transmitted optical power, and received optical power) of the system module in real-time so that the communication equipment manufacturer can monitor its working state in real-time.
SFP-10G-SR and SFP-10G-LR Comparison
QSFPTEK SFP-10G-SR transceiver is compliant with the 10GBASE-SR standard. It allows a 10 Gigabit Ethernet port to link 300m over multimode fiber (MMF) OM3. Since it is hot-pluggable and MSA compliant, the QSFPTEK SFP-10G-SR transceiver can be plugged directly into multi-vendor (like Cisco, Juniper, Arista, HPE, etc.) SFP+ based transceiver port. 10GBase-SR SFP+ module offers customers a range of 10 Gigabit Ethernet connectivity options for data center, enterprise wiring closets, and service provider transport applications.
While SFP-10G-SR is designed for short-distance communication, the QSFPTEK SFP-10G-LR module is applied long-distance, supporting a link length of 10km over standard single-mode fiber (SMF), such as wiring buildings together on a large campus or even setting up a Metro Area Network (MAN).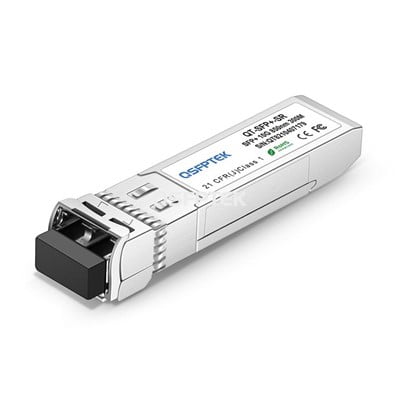 The following table shows a datasheet of Cisco SFP-10G-SR and SFP-10G-LR:
| | | |
| --- | --- | --- |
| Transceiver Type | SFP-10G-SR | SFP-10G-LR |
| Data Rate | 10Gbps | 10Gbps |
| Wavelength | 850nm | 1310nm |
| Fiber Type | Multimode Fiber | Single-mode Fiber |
| Max Cable Distance | 300m | 10km |
| Connector | Duplex LC | Duplex LC |
| Standard | 10GBASE-SR | 10GBASE-LR |
| Laser Type | VCSEL+PIN | DFB+PIN |
We can learn the similarity from the above specs comparison; the similarity is that all the two SFP+ types support the same data rate, same fiber connector, and same operating temperature. The difference is the wavelength, distance, transmitter and receiver laser type, and compliant standard.
Conclusion
After the comparison, have you known the difference between SFP-10G-SR vs. SFP-10G-LR? Which one should you choose? It depends entirely on your actual needs. As a reliable and qualified 10G SFP+ module supplier, QSFPTEK provides a full product portfolio of SFP+ modules at a low price; welcome to consult via [email protected].